Shimoga MP BY Raghavendra promises Shimoga-Bhadravati Metro rail system if re-elected
Shimoga MP BY Raghavendra pledges a metro rail between Shimoga and Bhadravati if re-elected during Nadahabba Dasara celebrations. He commends the festivities' organization and speaks about spiritual influences and the Bhagyalakshmi Yojana scheme, along with future flight connections. Some attendees responded with amusement when he mentioned Shimoga to Goa flights.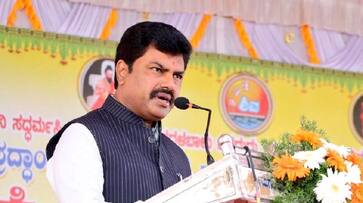 Shimoga MP BY Raghavendra has promised to establish a metro rail system between Shimoga and Bhadravati if re-elected from the Shimoga Lok Sabha constituency. He made this announcement while inaugurating the Rasamanjari program during the Nadahabba Dasara celebrations organized by the Municipal Council ij Bhadravati. He expressed his gratitude to the people of Bhadravati for their consistent support in previous elections, and he expressed confidence in their continued blessings for his re-election.
The Nadahabba Dasara celebrated in Shimoga and Bhadravati follows the pattern of Mysuru Dasara, which brings happiness to the twin cities. Raghavendra commended the non-partisan and secular efforts of municipal council members, officers, and staff in organizing the festivities. The event was presided over by Municipal Council President Shruti Vasantakumar.

Mysuru Dasara 2023: Captain Abhimanyu to carry Ambari for 4th consecutive time
Raghavendra was felicitated during the ceremony, and various other dignitaries were in attendance. Speaking at the Sharannavaratri and Dasara festival held at Hirekal Math, Raghavendra emphasized the strength of India's spiritual and religious influences, stating that India would not perish. He underlined the significance of worship, home, havan, and puja for the nation's well-being.

Cultural extravaganza: World-famous Mysuru Dasara's Jamboo Savari set to steal limelight on Tuesday
Additionally, Raghavendra mentioned the Bhagyalakshmi Yojana, a scheme initiated by former Chief Minister BS Yeddyurappa, which will celebrate its 18th anniversary on January 24. The scheme provides financial assistance to impoverished girls who have turned 18. Raghavendra expressed pride in his father's role in creating this plan. Furthermore, he announced upcoming flights from Shimoga Airport to Tirupati, Hyderabad, and other major cities.
However, some attendees responded with laughter when Raghavendra mentioned launching flights from Shimoga to Goa. Former Ranebennur MLA Arunkumar lamented the voters' choice to give the Congress a majority despite expectations of drought under their leadership, urging Raghavendra to follow in BS Yeddyurappa's footsteps.
Last Updated Oct 24, 2023, 9:45 AM IST