Cultural extravaganza: World-famous Mysuru Dasara's Jamboo Savari set to steal limelight on Tuesday
The Jamboo Savari, concluding the Mysuru Dasara festival, begins on October 24. Chief Minister Siddaramaiah will inaugurate the event with a puja at 1:46 PM. The procession includes various cultural performances and rituals, with Gajaraja Abhimanyu offering flowers to Chamundeshwari's idol. The grand parade follows a 5-kilometer route, concluding at Bannimantapa, with a flag parade at 7:30 PM, presided over by Governor Thawar Chand Gehlot. This festival is a major attraction for tourists and locals alike.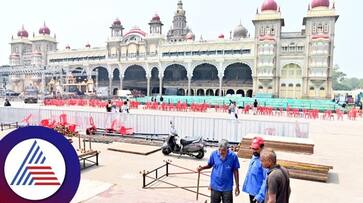 The much-awaited Jamboo Savari, a dazzling highlight of the world-famous Mysuru Dasara festival, is set to kick off tomorrow, October 24, marking the grand finale of the traditional ten-day Nadahabba celebration.
Thousands of eager tourists, both from within the country and abroad, have flocked to the culturally rich city to witness this magnificent spectacle and pay their respects to the goddess Chamundeshwari as she embarks on a golden chariot procession. The entire palace city is adorned in a festive spirit to welcome the event.

Mysuru Dasara: Explosives detonate at Palace grounds, staff escape with minor injuries
Chief Minister Siddaramaiah will inaugurate the Jamboo Savari by performing a special puja to the Nandi Dhwaja at the Palace Balarama Dwar, a significant moment scheduled from 1:46 PM to 2:08 PM on Tuesday. Following this ceremonial opening, a colourful procession will commence, featuring Nandidhwaja, Veeragase dancers, Nadaswara musicians, Nauphat performers, Nishane elephants, NCC and Scout troops, various police units, and silent films showcasing native art, culture, and folk performances.

Mysore Dasara: SWR announces special trains between Hubballi-Mangaluru via Bengaluru; check details
The grandeur continues as Gajaraja Abhimanyu offers flowers to the idol of Chamundeshwari, which is housed in a 750 kg gold warehouse, during the auspicious Meena Lagna period, occurring between 4:40 PM and 5 PM. This ceremony will be attended by royal family member Yaduveera Krishnadatta Chamaraja Wodeyar, Deputy Chief Minister D.K. Shivakumar, District In-charge Minister Dr. H.C. Mahadevappa, and other dignitaries.
Following the rituals, the majestic procession will proceed over a 5-kilometer route, culminating at Bannimantapa. At 7:30 PM, a flag parade will be held, with Governor Thawar Chand Gehlot presiding to receive the salute.  This year's Nadahabba Mysore Dussehra will draw to a close with the unforgettable spectacle of the Jamboo Savari, a celebration cherished not only by the locals but also by visitors from far and wide.
Last Updated Oct 23, 2023, 9:39 AM IST