Senior BJP leaders upset over Vijayendra's appointment as state leader: Congress MLA Shivaraj Tangadagi
Congress MLA Shivaraj Tangadagi voices dissent over Vijayendra's BJP presidency, citing discontent among senior BJP leaders. He questions BJP's electoral strategy for Lok Sabha polls, emphasizing Congress unity and doubting BJP's ability to appoint an opposition leader. Tangadagi downplays potential Congress losses, highlighting Lingayat community focus on governance. He criticizes BJP's handling of drought issues, urging concrete farmer support.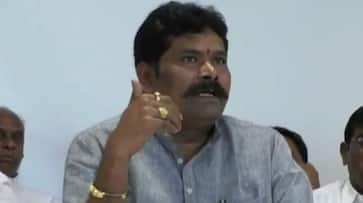 Congress MLA Shivaraj Tangadagi alleged that the selection of Yeddyurappa's son, Vijayendra, as the BJP State President has stirred discontent among senior BJP leaders. Thangadagi, speaking to journalists at his residence, highlighted ongoing dissent within the BJP, asserting that numerous senior leaders had eyed the position of state president. The decision to appoint Vijayendra has triggered resentment among senior party members, especially in light of the upcoming Lok Sabha elections and the organizational dynamics.
Expressing concerns about the BJP's electoral strategy, Tangadagi questioned how the party could secure victories in the upcoming Lok Sabha elections without electing an opposition leader in the assembly. He speculated that the Congress might clinch more than 25 seats in the imminent Lok Sabha polls, particularly bolstered by electoral alliances in three states, including Telangana. Thangadagi emphasized unity within the Congress, stating their collective commitment to campaign for a Congress government in these elections.

Vijayendra's talent has been recognised by Amit Shah which earned him to lead state BJP: Former CM SM Krishna
Furthermore, Tangadagi downplayed any potential losses for the Congress following Vijayendra's appointment, asserting that the BJP itself faced challenges, having operated without a Leader of Opposition for two sessions. He expressed doubts about the BJP's ability to appoint an opposition leader even during the Belgaum session. Thangadagi conveyed his personal congratulations to Vijayendra, despite his concerns regarding party dynamics and electoral strategies.

Former Karnataka CM BS Yediyurappa's son Vijayendra appointed as BJP state unit President

Responding to speculations that the Lingayat community might sway towards the BJP due to Vijayendra's appointment, he suggested that the community prioritizes governance and administration over individuals. Expressing confidence in the party's governance, he anticipated the BJP winning more than 20 seats in the upcoming Lok Sabha elections.
Turning attention to the drought situation, Tangadagi criticized the BJP for what he perceived as theatrical attempts at addressing drought issues in the state. He urged the government to prioritize immediate compensation for affected farmers instead of symbolic gestures.
Last Updated Nov 14, 2023, 2:30 PM IST