Vijayendra's talent has been recognised by Amit Shah which earned him to lead state BJP: Former CM SM Krishna
Former CM SM Krishna applauds BY Vijayendra's elevation as BJP state president, citing PM Modi, HM Shah, and Nadda's trust. Krishna urges Vijayendra's impact in Lok Sabha elections, emphasizing Yediyurappa's groundwork. He advocates for youth empowerment, suggesting discussions for Kaveri river water sharing, drawing on past crisis management experiences.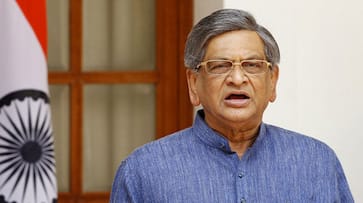 Former Chief Minister SM Krishna lauded the elevation of BY Vijayendra to the post of BJP state president, attributing it to the significant responsibilities bestowed upon him by Prime Minister Narendra Modi, Home Minister Amit Shah, and Party National President JP Nadda. He emphasized the need for Vijayendra to leave his mark in the forthcoming Lok Sabha elections.
Speaking to reporters following his meeting with Vijayendra at the latter's residence, Krishna extended congratulations, highlighting the arduous groundwork laid by former Chief Minister B.S. Yediyurappa in fortifying the BJP in the state over the years. He asserted that building upon this foundation, Vijayendra shoulders the substantial responsibility of strengthening the party and making a notable impact in upcoming elections.

BJP to strengthen under Vijayendra's leadership, not hereditary power: Pralhad Joshi
Expressing his wishes for Vijayendra's success, Krishna stated the emergence and empowerment of young talent, urging elders to work in tandem with them. He stressed the importance of guiding and supporting the youth for their growth and the collective progress of the party.

JDS MP Prajwal Revanna stresses unity, backs the BJP-JDS alliance for Modi's victory.
Krishna also touched upon the ongoing issue of Kaveri river water sharing, suggesting that the four states involved should engage in discussions to formulate a crisis plan. He highlighted the necessity of developing a robust strategy for water management during challenging times, drawing from his experience as Chief Minister during previous tense situations related to the Cauvery issue.
Recalling the historical challenges faced over the Cauvery dispute, Krishna referenced former Prime Minister Atal Bihari Vajpayee's interventions and subsequent legal consultations involving retired Chief Justice Venkatachaliah and Justice Ravindra of the Supreme Court. He stressed the importance of continuing efforts towards resolution while navigating such complex water-sharing conflicts.
Last Updated Nov 14, 2023, 2:10 PM IST