Sandalwood actors Darshan, Jaggesh and Vinay Guruji face heat over tiger-related links
A wave of controversy has gripped Karnataka's entertainment industry as well-known Sandalwood actors, Darshan Thoogudeepa, Jaggesh and Vinay Guruji, have come under scrutiny for their associations with tiger-related items. Allegations and legal complaints are piling up, prompting a closer look at the actions of forest officials in these cases.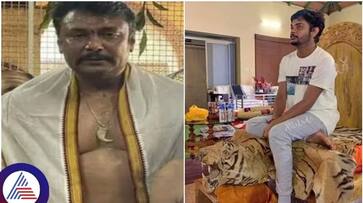 The spotlight first turned on Darshan Thoogudeepa when a viral photo showcased him wearing a tiger nail pendant, a clear violation of the Wildlife Protection Act of 1972. Advocates from the Vande Mataram Samaj Seva Sanstha Union of All Organizations have filed a formal complaint, urging the Chief Conservator of Forests in Karnataka to take legal action against the actor.
Meanwhile, Vinay Guruji faced accusations of owning a tiger skin, but he claims to have returned it to the forest department. He held a license for these items, which he surrendered due to non-renewal. He maintains that he committed no crime, although the situation has sparked significant controversy.
This controversy deepened after the arrest of Varthur Santhosh, a contestant from Bigg Boss Season 10, for wearing jewelry adorned with tiger claws. Questions have arisen regarding the forest officials' handling of this case and whether a fair and consistent approach has been taken toward all individuals in possession of tiger-related items.
Also Read: Bengaluru: Forest officers raid actor Darshan Thoogudeepa's residence amid Tiger claw pendant row
Notably, many other instances of people, including Sandalwood stars, wearing tiger claws have surfaced on social media, but not all have been subjected to legal action. This inconsistency in enforcement has raised concerns about whether celebrities are receiving preferential treatment.
The situation remains complex, and as Bigg Boss contestant Varthur Santhosh's bail application hearing unfolds, the controversy continues to escalate. 
Furthermore, a group is preparing to file complaints against political figures wearing tiger claws, emphasizing the need for a uniform and fair approach to these issues.
Last Updated Oct 25, 2023, 5:56 PM IST