Rs 840 crore project unveiled to combat plastic pollution in coastal Karnataka
In a groundbreaking initiative aimed at tackling the escalating plastic pollution crisis in the Karnataka's coastal region, state Forests, Biology, and Environment Minister Eshwara B Khandre has unveiled an ambitious Rs 840 crore project. The World Bank has proposed this project to curb the distressing inflow of plastic waste into the sea, causing irreparable harm to marine life.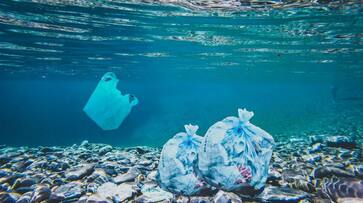 Addressing the media, Minister Khandre expressed deep concern over the alarming death toll among aquatic creatures due to the plastic waste inundating the shores. The shocking statistic of 50 tons of plastic waste amassing on the coast daily has underscored the urgency of the issue. 
The devastating impact on the reproductive cycles of vital species like turtles, who lay their eggs on these shores, is a particularly distressing consequence.
Consultations between Minister Khandre and a World Bank delegation have led to the formulation of a comprehensive strategy. This strategy envisions a coordinated effort involving coastal fishermen who, during breaks from their traditional trade, will engage in clearing the accumulated plastic debris from the sea. Remarkably, this endeavour is projected to offer greater economic returns to these fishermen than their fishing activities. 
Karnataka: Crackdown soon on encroachments in Bengaluru forest cover
Minister Khandre emphasized that the imperative to address single-use plastic's detrimental effects on both ecosystems and human health has never been more pressing. The ambitious Blue Pack scheme, valued at Rs 840 crores, entails significant financial support from the World Bank, with a 70 per cent loan component, while the state government will contribute the remaining 30 per cent. Notably, the project has received endorsements from authoritative bodies like Niti Aayog and the Union Ministry of Environment, Forests, and Climate Change.
This landmark endeavour holds promise as a beacon of hope against the menace of plastic pollution, signifying a united front against an environmental crisis that threatens both marine life and human well-being.
Last Updated Aug 9, 2023, 3:01 PM IST