Karnataka: Eid procession in Shimoga turns violent over controversial cutout; Section 144 imposed
A violent clash during the Eid Milad procession in Shimoga, sparked by a controversial Tipu Sultan cutout, led to damage and injuries. Over 35 arrests have been made, and Section 144 was enforced citywide to maintain peace. The dispute over the cutout was resolved with local leaders' endorsement.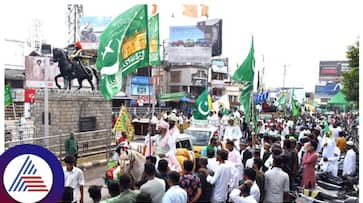 What was supposed to be a joyous occasion during the Eid Milad procession in Shimoga took a turbulent turn as a controversial cutout featuring Tipu Sultan triggered a violent clash in the Ragigudda-Shantinagar area late on Sunday night. The incident left the area tense, prompting authorities to implement Section 144 as a precautionary measure to maintain peace and prevent further disturbances.
As the Eid Milad procession made its way through Shimoga, it reached Ragigudda, where a dispute over the controversial cutout flared into a disastrous confrontation between members of the Hindu and Muslim communities. Tempers flared, and some individuals resorted to pelting stones at the procession.

Bhadravathi's Mysuru Paper Mills to be restarted soon: Karnataka Minister MB Patil
The stone-pelting incident resulted in extensive damage to over seven cars and multiple house windows. Several individuals also suffered severe injuries during the clashes. A senior police official confirmed that more than 35 individuals have been arrested in connection with the incident, with additional arrests expected.
The turmoil began when Shimoga's Superintendent of Police, SP Mithun Kumar, painted over a section of the cutout depicting Hindu model soldiers. This action sparked objections from the Muslim community, leading to their gathering at the site. Muslim youths and women voiced their outrage, even blocking the Shimoga-Honnali-Davangere road while chanting slogans against the police.
The dispute over the cutout, which featured an objectionable image, was ultimately settled, with local leaders endorsing the resolution. Presently, Ragi Gudda enjoys a peaceful atmosphere. In preparation for the Eid Milad procession, approximately 2,500 police personnel, including around 15 KSRP and 10 DAR units, have been deployed to ensure a tranquil event.
SP Mithun Kumar, addressing the situation, assured that necessary precautions were taken regarding the controversial cutout. He personally clarified the matter to those present, garnering their support for the resolution. Initially, Section 144 was only enforced in the Ragigudda area, but, considering the circumstances, Shimoga's Deputy Commissioner, Dr. Selva Mani, expanded it to cover the entire city.

Shimoga hotel penalised Rs 15000 for serving non-veg food to vegetarian customer
The BJP's official Twitter account has tweeted a video related to the incident. "This video captures a procession featuring swords (Talwar) organized by fanatics in Shimoga. The Congress government, which granted permission for this event, should clarify the message such a procession conveys to society. What further evidence is required to demonstrate that the Congress government is aligning itself with extremist organizations that have declared their intention to eradicate all Hindus until none remain? What is the rationale behind the government permitting processions that disrupt societal harmony when it also requests permission for Hindu-established Ganapati processions during Ganesha Chaturthi? What more can be anticipated from this government that is perceived as promoting extremist agendas?"
— BJP Karnataka (@BJP4Karnataka) October 1, 2023
Last Updated Oct 2, 2023, 12:25 PM IST