Karnataka govt plans school timing shift in Bengaluru to curb traffic congestion
The Karnataka Education Department plans to discuss changing school timings in response to traffic congestion. A meeting with private schools, school vehicle associations, and parents is scheduled for the 5th to explore options, aiming to reduce school hours by half an hour, but concerns about early hours impacting students have been raised.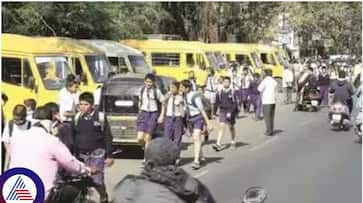 The Karnataka Education Department has convened a significant meeting to address the issue of changing school timings in Silicon City. This move comes as a potential solution to the ongoing problem of school hours in the region. The department has scheduled a crucial meeting with the Association of Private Schools, the Association of School Vehicles, and parents, which will take place on the 5th at 11 a.m. under the supervision of the Commissioner in the Department of Comprehensive Education.
This decision was prompted by a recent court directive to adjust school timings to alleviate traffic congestion. In response, the Education Department opted to engage with the private school union to find a viable solution.

Karnataka HC suggests govt to change timings of schools, companies to tackle peak traffic
Currently, most schools across the state operate classes from 8.45 a.m. to 3.30 p.m. The Education Department is exploring ways to trim this duration by half an hour. However, even before the department could finalize its decision, the Association of Private Schools voiced objections, citing concerns about the early school hours imposing a burden on students.

Bengaluru: Govt plans to impose 'Congestion Tax' on motorists to ease traffic congestion
The private school federation expressed several reservations, including the impact of early hours on children's sleep patterns, reduced time for physical activity, and potential health problems. They suggested implementing earlier school hours in major traffic areas of the city like MG Road but not necessitating an early start in outer zone roads. They emphasized the importance of maintaining the overall learning period for children.
This action follows a Public Interest Litigation addressing worsening traffic conditions in the city, where a Division Bench, including Chief Justice Prasanna B Varale and Justice Krishna S Dixit, recommended that the State Government consider adjusting the timing of educational institutions, industries, and corporate affairs. Consequently, discussions on changing school hours are now underway.
Last Updated Oct 3, 2023, 4:57 PM IST