Karnataka: Cylinder explosion burns down house, Rs 4.5 lakh cash and animals in Belagavi
In Basavanakudachi, Belagavi, a Diwali-time fire, sparked by a festival lamp, led to a gas cylinder explosion, devastating Abhishek Kauvalagi's house. Thankfully, no human casualties, but the fire claimed four lambs and property, including cash meant for a tractor purchase, and gold jewelry, all lost to the flames.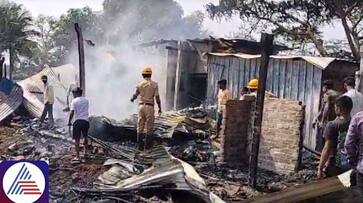 A devastating incident took place in Basavanakudachi village in Karnataka's Belagavi, as a house belonging to Abhishek Kauvalagi was entirely consumed by a fierce fire caused by a gas cylinder explosion. The incident, occurring at the auspicious time of Diwali, resulted in the loss of property, life, and a significant amount of cash.
The fire, ignited by a Diwali festival lamp, quickly engulfed the premises, leading to the catastrophic explosion of a gas cylinder. Fortunately, no one was at home during the time of the explosion, averting a potentially tragic loss of human life. However, the fire claimed the lives of four lambs present at the property.

Fire burns down furniture showroom in Bengaluru on Diwali night
The aftermath revealed the magnitude of the loss as an estimated four and a half lakh rupees in cash, intended for the purchase of a tractor on Diwali Bali Padyami, was also consumed by the flames. This included the four lakh rupees that Abhishek had withdrawn from the bank and kept at home to buy the tractor.
The Fire Brigade personnel, swiftly responded to the scene, managing to douse the flames that had ravaged the house and property. Reportedly, about 50 grams of gold jewellery was among the possessions reduced to ashes in the inferno.
Last Updated Nov 13, 2023, 4:03 PM IST