International Recognition for Karnataka's Ksheerabhagya Scheme: CM Siddaramaiah Celebrates 10th Anniversary
In a momentous celebration marking the 10th anniversary of Karnataka's Ksheerabhagya scheme, Chief Minister Siddaramaiah proudly announced that the program had achieved international recognition by winning the prestigious International Dairy Federation Award.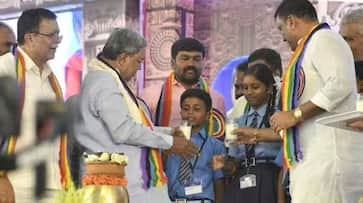 This recognition comes as a testament to the scheme's success in providing essential support to the state's dairy industry and its commitment to welfare programs.
Under the Ksheerabhagya scheme, the government has raised the price of milk per liter by Rs. 3 to benefit farmers, reflecting its dedication to supporting agriculture and rural livelihoods. The government's investment in the scheme exceeds one thousand crores this year, highlighting its sustained commitment to the welfare of its citizens.
The 10th anniversary celebrations were inaugurated by CM Siddaramaiah, who is known as the architect of the Ksheerabhagya program. During his tenure as Chief Minister, he introduced the scheme to provide free milk to millions of children, benefiting countless families over the past decade.
In addition to the Ksheerabhagya scheme, the government has successfully implemented various other welfare programs, including free bus travel for 53 crore women under the Shakti Yojana, free electricity for eligible families through the Gruha Jyoti scheme, and financial support for housewives and unemployed graduates under different schemes.
The Chief Minister also emphasized the importance of infrastructure development, including projects like the Ettinhola project for drinking water supply and the demand for declaring the Bhadra Upper Bank Project as a 'National Project.'
Moreover, Chief Minister Siddaramaiah announced plans to establish a mother-child hospital in Madhugiri and allocate funds for the Roop Way to Madhugiri Hills in the upcoming budget.
The event witnessed various dignitaries, including Cooperation Minister KN Rajanna, Home Minister and District In-charge Minister Dr. G. Parameshwar, and KMF President Bhimanaik, who highlighted the positive impact of the Ksheerabhagya scheme on milk producers and unions.
As part of the celebrations, Chief Minister Siddaramaiah was felicitated, and a commemorative issue was released, marking a decade of the Ksheerabhagya Yojana's success.
In a spirited moment, Chief Minister Siddaramaiah interacted with schoolchildren, personally checking if they found the Ksheerabhagya program beneficial.
The event also witnessed the inauguration of the Kannada Bhavan, showcasing the government's dedication to cultural and community development.
During the event, Chief Minister Siddaramaiah displayed his cheerful mood, symbolizing the enthusiasm and commitment of the government to the welfare of the people of Karnataka.
Last Updated Sep 7, 2023, 4:22 PM IST