How Karnataka's Chamrajnagar is tackling elephant menace
The Forest Department in Karnataka's Chamrajnagar district has effectively addressed the issue of elephants entering villages by installing railway barricades at strategic points, costing approximately Rs 1.5 crores per kilometer. This proactive approach has protected nearby villages from wildlife intrusions, benefiting both residents and elephants.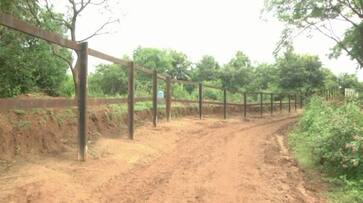 The Forest Department in Karnataka's Chamrajnagar district has taken proactive steps to tackle the challenge of elephants entering villages, causing damage to farms, and endangering lives. They have used Electric Power Tension (EPT), solar fences, and railway barricades.
For many years, elephants have been a problem, damaging crops and posing risks to people. Some tried using illegal electricity to keep the animals away. To address these issues, the Forest Department found where elephants often entered villages and put up railway barricades.

Clear forest encroachments to curb human-wildlife conflicts: Karnataka CM Siddaramaiah
These railway barricades have already been put up in places like Kundukere and Hediala in the Bandipur area. They have helped stop elephants from getting into villages. Around 60 kilometres of these barricades are already in place in Bandipur, and there's approval for 26 kilometres more. This protects nearby villages from wildlife intrusions.

Hassan: Forest guard killed while trying to help wounded wild elephant, forest dept faces flak
However, building these barricades is costly, about Rs 1.5 crores per kilometre. Hence, authorities are careful about where they install them, focusing on areas with frequent elephant visits. This approach brings relief to villagers near forests, safeguarding their farms and livelihoods.
The Forest Department's efforts to reduce conflicts between humans and wildlife have earned praise from residents. The use of railway barricades has been effective in curbing the human-wildlife conflicts in the area.
Last Updated Sep 9, 2023, 9:57 AM IST