Fraud Using Sudhamurthy's Name Unveiled, Complaint Filed Against Two Women at Jayanagar Police Station
In a startling case of fraud, individuals misusing the name of Sudha Murthy, Chairman of Infosys Foundation and a prominent writer, have been exposed. A complaint has been formally lodged at the Jayanagar Police Station in Bengaluru, bringing this deceptive scheme to light.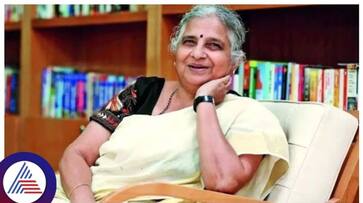 The Incident:
Sudha Murthy was invited to the 50th Kannada Koota program in California, USA. Initially, an email invitation reached Sudha Murthy's office on April 5, to which he responded on April 26, declining the invitation due to prior commitments.
However, by August 30, posters and banners featuring Sudha Murthy as the chief guest of the California Kannada Koota program began appearing everywhere, raising suspicions. Sudha Murthy was baffled by the promotional materials for various events, including a talk show, suggesting his participation.
Upon investigation, it was discovered that a women named Lavanya, claiming to be a member of the  Sudha Murthy Trust, had falsely represented Sudha Murthy as a participant in the event. Organizers even advertised Sudha Murthy as a guest.
 The Vaccine War: Sudha Murthy says "India Can Do It" after seeing Vivek Ranjan Agnihotri's film
Further Deception:
Lavanya informed event organizers that Sudha Murthy would attend the program via video conference, a revelation that surprised Sudha Murthy herself. This revelation exposed the extent of the fraudulent activities carried out under her name.
In a parallel scheme, a woman named Shruti sold tickets for a supposed "Meet and Greet with Sudha Murthy" program in America, charging $40 per ticket. The tickets sold briskly, hinting at the success of this deceitful operation.
Taking Legal Action:
As these fraudulent activities unfolded, Sudha Murthy's personal assistant, Mamata Sanjay, filed an official complaint against Lavanya and Shruti at the Jayanagar police station. The case shines a light on the importance of safeguarding individuals' identities against misuse and deceitful schemes.
Last Updated Sep 24, 2023, 8:16 PM IST