Corruption embedded in Congress DNA: MoS Rajeev Chandrasekhar on Rs 42 crore cash haul in IT raid
Union Minister Rajeev Chandrashekhar criticizes the Congress party, accusing it of deep-rooted corruption and a politics of falsehoods. He highlights recent IT raids, wealth increases among party members, fund mismanagement, and broader corruption issues. Chandrashekhar questions the Congress's vision for the future and warns of potential financial consequences under a Congress-led government in Karnataka.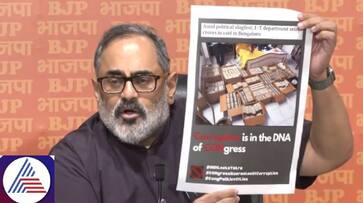 Union Minister Rajeev Chandrasekhar has strongly criticized the Congress party, asserting that corruption is deeply ingrained in their DNA. He accused the Congress of engaging in a brand of politics built on falsehoods and referred to it as "rajneeti of lies."
Chandrasekhar highlighted a recent IT raid in Bengaluru, particularly the case of Ambikapati, a contractor who transitioned from making allegations of a "40% corruption government" against the BJP in 2022 to having a significant amount of 42 crores in cash discovered at his residence. He stated that Ambikapati is just the 'tip of the iceberg. There will be many more such contractors in the future.
He raised concerns about the Congress's commitment to development, noting the substantial increase in the wealth of certain members within the party. He also voiced apprehensions about fund mismanagement, including during the Mysuru Dasara celebrations and allegations of financial contributions to elections in other states.
Furthermore, Chandrasekhar discussed the broader issue of corruption within the Congress and its funding contributions to the I.N.D.I.A alliance. He suggested renaming Rahul Gandhi's "Bharat Jodo Yatra" as the "INDI Looto Yatra."
During a question-and-answer session, he underlined his belief that the Congress government is characterized by falsehoods, citing the example of Karnataka Deputy Chief Minister DK Shivakumar, who significantly increased his wealth to become the richest MLA in India.
Chandrasekhar pointed out the absence of a clear vision for the future in the Congress's approach to matters related to the economy, investments, and national development. He echoed the BJP's stance that the Congress is synonymous with corruption and warned that a Congress-led government in Karnataka could potentially turn the state into a financial "ATM.
Last Updated Oct 14, 2023, 2:25 PM IST