Demand for Karnataka DyCM Shivakumar's resignation grows after HC allows CBI probe against him

The Karnataka High Court decision to allow the Central Bureau of Investigation (CBI) to investigation allegations of illegal property acquisition against state deputy chief minister DK Shivakumar has triggered a political storm, with opposition BJP leaders calling for his resignation.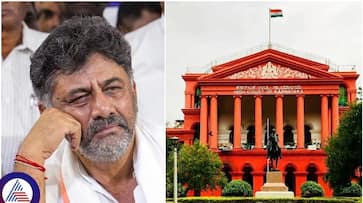 Former Deputy Chief Minister Dr CN Ashwath Narayan asserted that Shivakumar had sought the court's intervention to dismiss the CBI case, but his plea was rejected, and the restraining order was lifted. He demanded a transparent investigation and, in essence, Shivakumar's resignation. 
Karnataka cabinet seeks Rs 5,326 crore for drought relief from Centre
N Ravikumar, the state general secretary of the BJP, emphasized the need for a corruption-free administration and insisted that Shivakumar should step down if he values morals and honesty. He also suggested that even if Shivakumar is proven innocent in the future, his resignation is necessary. 
Chalavadi Narayanaswamy, the president of the SC Morcha and Vidhan Parishad member, called upon chief minister Siddaramaiah to seek Shivakumar's immediate resignation. He expressed concerns that an influential figure like Shivakumar might have the means to cover up evidence and potentially influence witnesses. 
He threatened that if Shivakumar did not resign, they would approach the Governor to press their demands. Responding to these allegations and calls for his resignation, Shivakumar remained defiant. He stated that the court's verdict and the details of his assets would serve as his response to any conspiracy hatched by the BJP. 
Shivakumar highlighted that the CBI's claim of 90% completion of the investigation lacked substance, as he had not been provided with information about his and his family's properties.  
Shivakumar also referenced the previous investigation ordered by former chief minister BS Yediyurappa, suggesting it was politically motivated. However, he expressed faith in the judicial process and vowed to fight within the legal framework to address the allegations against him.
Last Updated Oct 20, 2023, 11:30 AM IST