Congress government in Karnataka is repressive, silencing dissenting voices: BJP
Former Karnataka Chief Minister Basavaraj Bommai has come forward to voice his apprehensions about the state government's oppressive and repressive tendencies. In a conversation with the media, Bommai stated that the government appears to be employing strong-arm tactics to quash any dissenting voices, indicating a worrisome crackdown on freedom of expression.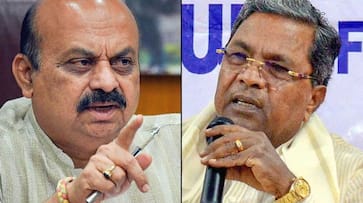 The situation has escalated to the point where even journalists find themselves in legal crosshairs, with registered cases against them. This dictatorial approach to silencing criticism raises alarms about the government's commitment to transparency and accountability, especially in light of mounting allegations of corruption.
As accusations of stifling public discourse grow louder, citizens are left to ponder the repercussions of a government that seems bent on curtailing fundamental freedoms. Observers note that the upcoming days may hold answers to the people's concerns, as the government's actions are subjected to increasing scrutiny.
Operation Kamala: BJP's Behind-the-Scenes Endeavor to Reclaim Defectors
Political dynamics also come into play, with the Congress party seemingly on edge. The specter of diminished Lok Sabha seats looms large, and the party appears to be resorting to tactical maneuvering to secure its foothold. However, critics argue that such efforts may be in vain, failing to salvage the party's influence in the face of a disgruntled populace.
Amidst these concerns, the agricultural sector has not been spared from the government's neglect. Erratic weather patterns, including a delay in the monsoon season, have wreaked havoc on farmers' efforts. Initial sowings were decimated, leading to significant losses. A subsequent attempt at re-sowing faced similar challenges due to untimely rains in August.
Adding fuel to the fire, the government's handling of the drought situation has drawn criticism. Despite the severity of the circumstances, delays in declaring a drought and the lack of proper crop surveys have aggravated the woes of both farmers and residents. This dire situation is further compounded by diminishing water reserves, pointing towards an impending water crisis if not managed with urgency.
Compounding the state's troubles is a noticeable drop in power generation. Thermal plants are experiencing reduced output, resulting in widespread power cuts that exacerbate the daily struggles of the population. Despite this growing list of concerns, the state government's apparent indifference has struck a chord of anger and frustration among the citizenry, who entrusted them with power in the first place.
In light of these serious allegations, it remains to be seen how the government responds to mounting pressure and whether it will take tangible steps to address the various challenges confronting the state. As citizens and observers await a meaningful course correction, the road ahead appears fraught with uncertainty.
Last Updated Aug 25, 2023, 1:26 PM IST