Cauvery river debate intensifies: Karnataka politics grapples with equitable water sharing
The political turmoil in Karnataka surrounding the contentious Cauvery river issue has intensified with former Chief Minister H.D. Kumaraswamy's recent revelation about discussions with Union Minister Amit Shah. Kumaraswamy's statement has ignited questions and speculation regarding the nature and content of these discussions, further escalating the already heated political landscape in the state.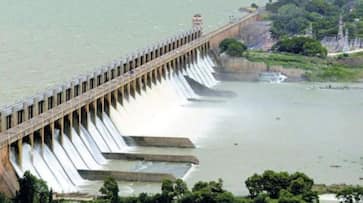 Amidst this backdrop, DK Sivakumar has emerged as a prominent figure determined to seek answers and transparency regarding the Cauvery water issue. Shivakumar's unwavering commitment to pursuing this matter, coupled with his call for Congress leader Sonia Gandhi's intervention, underscores the gravity of the situation and the urgency of finding a resolution.
While some voices have suggested that political figures like former BJP National General Secretary, CT Ravi should not have a say in this matter, the central concern remains the equitable distribution of water resources and the well-being of Karnataka's farmers. The Cauvery issue continues to be a critical topic in the state's political discourse, with its ramifications extending far beyond the realm of partisan politics.
'No matter what they do...': Rahul Gandhi on upcoming Assembly elections, cites Karnataka Congress' challenges
Deve Gowda's recent interview on the Cauvery issue adds another layer of complexity to the situation. His statements are expected to shed light on the nuances of the discussions and the positions of various stakeholders. It is clear that the leaders are committed to addressing the concerns of the state and its agricultural community but wish to avoid unnecessary politicization.
Meanwhile, on the political front, preparations are underway to challenge the BJP-JDS alliance, which is gearing up for the upcoming Lok Sabha elections. With 28 Lok Sabha constituencies in the state, including 8 districts with a significant Vokkaliga population, strategizing becomes crucial. Chief Minister Siddaramaiah and Deputy Chief Minister DK Shivakumar have engaged in a significant discussion regarding this matter.
Key issues on their agenda include preventing the fragmentation of Vokkaliga votes in regions like Mandya and Hassan and devising strategies to attract support from other influential communities. The focus is also on identifying disenchanted individuals within the BJP-JDS alliance and bringing them into the Congress fold.
The meeting's importance is highlighted by the fact that the election strategy was reportedly shared with AICC President Mallikarjuna Kharge, indicating a coordinated effort within the Congress to maximize their chances in the upcoming elections.
Last Updated Sep 24, 2023, 7:52 PM IST