Bengaluru: Survey reveals four-wheelers take double the time than two-wheelers to reach same distance
A recent survey in Bengaluru highlights commuting disparities between car users (1-1.5 hrs one way) and two-wheeler riders (35-40 mins). The Personal2Public campaign aims to encourage residents to use public transportation at least twice a week, emphasizing the need for seamless access to public transport.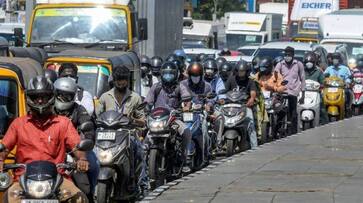 In a recent survey report unveiled on September 4, Bengaluru residents' commuting habits were highlighted, revealing significant differences between car users and two-wheeler riders. Car users were found to spend approximately 1-1.5 hours travelling in one direction, whereas two-wheeler riders typically spent only 35-40 minutes on their commutes.
This survey was conducted as part of the Personal2Public campaign, an initiative led by NGOs like the Bangalore Political Action Committee (B.PAC) and WRI India. The campaign's primary objective was to encourage residents to transition from private vehicles to public transportation for their daily commutes, at least twice a week.

Do you know the historical reason why Bengaluru's 'Vidyarthi Bhavan' is closed every Friday?
Revathy Ashok, the Managing Trustee & CEO of (B.PAC), highlighted the significance of the survey results, stating, "This survey communicates the ground realities that citizens witness in their day-to-day life." 
She emphasized that the survey findings clearly demonstrated Bengaluru residents' willingness to transition away from private vehicles and embrace public transportation for their work commutes, provided there is seamless, predictable, and comfortable access to first and last-mile connectivity.
Ashok also stressed the importance of conveying these insights to the government to inspire the necessary actions and meet the expectations of Bengaluru residents.
The #Personal2Public campaign, launched in July in collaboration with civil society groups, corporations, auto driver unions, and research organizations, aimed to promote the regular use of public transport among commuters. The citizen-led initiative garnered support from B.PAC, the World Resources Institute (WRI), and numerous corporate and civil society organizations.

Renting a flat in Bengaluru proved expensive for techie, loses Rs 64000 to scammer posing as owner
The survey looked into commuters' travel patterns to identify gaps in accessing public transport. Among the 3,855 respondents, a significant majority, comprising around 60 per cent or three out of five individuals, relied on their personal vehicles for daily travel. 
Specifically, 1,172 respondents used cars, while 1,046 opted for two-wheelers. Car users were observed to spend significantly more time on their commutes, averaging 1-1.5 hours in one direction. In contrast, existing Metro users spent 45 minutes to an hour travelling to similar destinations.
Last Updated Sep 5, 2023, 5:18 PM IST