Bengaluru's iconic flat near 'Lazy Suzy cafe' at Indiranagar now occupied by tenant; Internet memes approval
The iconic 2BHK apartment in Bengaluru's Indiranagar, famous for internet memes, has found a tenant, @kalemayank29. The apartment went viral after the landlord posted a listing online. It was originally listed for Rs 45,000, but the meme fame boosted it to Rs 55,000 before the listing was removed. Online reactions continue as the apartment's legend lives on.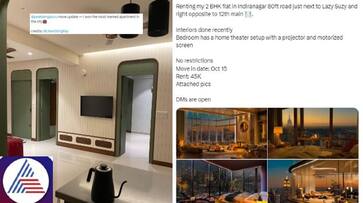 Do you remember that most memed iconic 2BHK apartment on the busy 80-feet road in Bengaluru's Indiranagar? It made headlines as the centre of an internet meme explosion, all thanks to a software engineer on the platform 'X' (formerly Twitter). In a delightful twist, a tenant @kalemayank29 has now proudly announced that he has occupied this apartment that once took the internet by storm.
This apartment, situated near the Lazy Suzy café and 12th Main, shot to stardom in September due to its meme-worthy charm. It all began when the landlord, @Bharath_MG, posted a listing for the property he intended to rent out. The apartment, adorned with modern interiors and conveniences, instantly caught the eye of Bengalureans.

Flipkart sale 2023: Dank offer is VALID on iPhone 14, leaves internet in splits
In his recent post, Kale declared, "@peakbengaluru move update - I won the most memed apartment in the city." Naturally, this announcement triggered a wave of reactions. One curious user inquired, "Congrats! What was harder, the YC interview or the one that the owner took for this house?" Another joked, "How does it feel to be God's favourite?" Yet another commented, "No one's forgetting this space anytime soon. Enjoy your stay in this lovely apartment."
Originally listed for rent at Rs 45,000, the internet frenzy pushed the price up to Rs 55,000. However, as the meme trend showed no signs of slowing down, the engineer decided to take down the listing.

Namma Metro offers special ticketing prices ahead of World Cup matches in Bengaluru
Online banter continued with lighthearted remarks, such as, "Shark Tank wants to invite you as a shark for s04." One fan expressed, "My respect for you as a competitor has skyrocketed thanks to this achievement, sir." Amid the humorous exchanges, one user pondered, "Wait, so this house actually exists?"
This entire episode is a testament to how the internet can transform an ordinary apartment into a viral sensation. So, now, the 2BHK apartment in Indiranagar, once the star of memes, has a tenant ready to create new stories within its walls. Here's to happy living, @kalemayank29!
Last Updated Oct 21, 2023, 4:57 PM IST