Flipkart sale 2023: Dank offer is VALID on iPhone 14, leaves internet in splits
Flipkart initially acknowledged a glitch in its app that mentioned a discount on the iPhone 14 if one takes leave to watch IND vs AFG match. They have now confirmed the offer, leading to humorous reactions and users requesting leave for the match.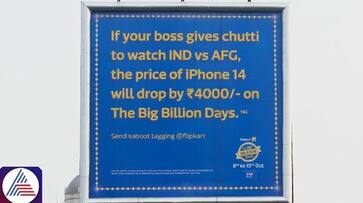 Flipkart has officially owned up to a glitch that had everyone in splits. Imagine this: "If your boss gives chutti (leave) to watch IND vs AFG, the price of iPhone 14 will drop by Rs 4000 on Big Billion days." Yes, you read that right. Initially, folks thought it was just a cheeky glitch or perhaps the handiwork of a mischievous hacker. But guess what? Flipkart has gone ahead and declared, "We're not kidding folks!" The iPhone 14 is indeed getting a price slash of Rs. 4000 during the upcoming Flipkart Big Billion Days sale. 
It all started when an eagle-eyed user, @Harsh_humour, spotted this quirky offer on Flipkart and couldn't resist sharing it with the world. He shot over a screenshot, wanting to know if this was for real or just another internet quirk. Flipkart's response was a resounding "Yes, it's real!" The internet then collectively lost its composure.

Apple iPhone 14 available for Rs 34,399 ahead of Flipkart sale 2023; Check deal details
In the wake of Flipkart's confirmation, social media went into a frenzy. Users across the digital landscape began submitting screenshots of their requests for leave, all in the name of catching the IND vs AFG match. It was an absolute riot!
One user, @SunidhiDarling, couldn't help but add her own twist, saying, "Running a family business is a 24/7 commitment! 😅 It seems like Flipkart's admin might be craving some time off to pull this prank! 🤣."

5 best deals on Android smartphones you can't miss ahead of Flipkart sale 2023
Others jumped on the bandwagon too, with one user gleefully revealing that they had already messaged their boss, asking for that coveted 'chutti.' But wait, there's more! A viral comment on Flipkart's post showed a screenshot of a user's conversation with their boss. The user had sent Flipkart's billboard image, and their boss, with a cheeky sense of humour, responded with, "Sure Rupak, you can take leave. But, INR 4000 will be debited from your salary this month." Talk about a boss who's in on the fun!
— Flipkart (@Flipkart) October 4, 2023
Last Updated Oct 4, 2023, 4:23 PM IST