Bengaluru residents spot leopard roaming in streets; alert issued (WATCH)
Bengaluru residents are alarmed as a leopard is sighted in a congested area near Kudlu Gate, captured on CCTV. The incursion of wild animals into the city due to human-animal conflicts in nearby villages is a recurring issue, leaving residents anxious and highlighting the need for proactive measures to address this problem.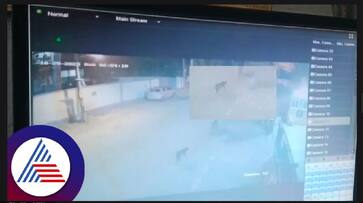 The bustling metropolis of Bengaluru, often grappling with issues like heavy rain, road potholes, and traffic jams, is now faced with an entirely different concern—a leopard on the loose within the city limits.
Reports of a leopard sighting in a congested residential area have set the city abuzz. The feline intruder was caught on CCTV footage in the vicinity of Kudlu Gate on Hosur Road, much to the astonishment of local residents.

Four more deer succumb at Bannerghatta National Park, bringing total deaths to 23
Residents were left in awe and shock as the leopard was spotted near AECS Layout - A Block, Kudlu Gate. Surveillance cameras captured the extraordinary sight of stray dogs chasing the leopard, an unusual scene in the urban landscape of Bengaluru.

Bengaluru: 13 deer die at Bannerghatta National Park post death of leopard cubs, sparks outrage
The intrusion of wild animals into the city, in search of sustenance, has been a recurrent issue resulting from human-animal conflicts in villages neighbouring the capital. In particular, Kadanchin village has witnessed such occurrences as a part of daily life. In the same year, another leopard made a surprise appearance in Gongadipur, under the jurisdiction of the Kodigehalli Gram Panchayat on Nice Road. Instances of leopard sightings are becoming increasingly frequent, further adding to the residents' concerns. The fear of these elusive felines has left people apprehensive about venturing out at night.
These incidents have brought into sharp focus the need for proactive measures to address the human-leopard conflict in and around Bengaluru. Residents are now on high alert, with concerns for their safety.
Last Updated Oct 30, 2023, 1:25 PM IST