Bengaluru metro's purple line sees commuter surge on Day 1, peak hour woes shared
The extended Bengaluru metro route from Byappanahalli to KR Pura has been a hit, with a significant surge in ridership, reducing travel time and costs for commuters. The new extension connects Whitefield to Challaghatta, offering a smoother commute for tech professionals in the area.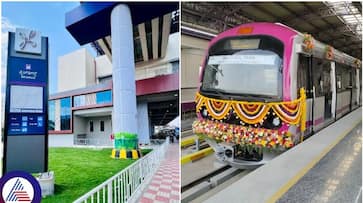 Since its inauguration on October 9, the extended metro route from Byappanahalli to KR Pura has been a hit among thousands of daily passengers. On Monday, the Byappanahalli-Whitefield route saw a significant surge in ridership, reaching a peak of 61,179 passengers, a substantial increase compared to the usual daily average of 28,000.
This extended route offers significant time-saving benefits, allowing commuters to travel from Whitefield to Pattandur Agrahara Station in just 10 minutes, from Pattandur Agrahara to Mysore Road Station in 5 minutes, from Majestic to MG Road Station in 3 minutes, and from Mysore Road to Challaghatta in 10 minutes. Metro services start as early as 5 a.m. from all terminals, with the last train departing from Whitefield at 10.45 p.m. and other terminals at 11.05 p.m. The Bengaluru Metro Rail Corporation Limited (BMRCL) has set a fare of Rs 60 for the entire journey on the Purple Line.

Bengaluru Metro's Purple Line from Challaghatta to Whitefield opens without official ceremony
This extension of metro services to Challaghatta has significantly reduced both travel time and costs. The metro journey from Challaghatta to Whitefield now takes approximately 1 hour and 20 minutes, priced at Rs 60, a considerable improvement compared to the typical road commute that often exceeds two hours.
The expansion connects Bengaluru metro's Purple Line network from Whitefield in the east to Challaghatta in the west, covering a total distance of 42.85 km.
While the KR Pura to Whitefield section opened in March 2023, it was initially disconnected from the rest of the Purple Line due to the installation of an Open Web Girder (OWG) on the Baiyappanahalli to KR Pura segment.
However, the opening of the Challaghatta-Whitefield metro extension caused significant overcrowding at the Majestic station during peak hours. A commuter shared his experience on social media, highlighting the need for better micro-level planning.

Bengaluru Youtuber fined for making prank reels inside Namma Metro train
Commuters have raised concerns, as the daily passenger count is expected to increase with the new metro extension to Whitefield. Tech professionals working in Whitefield can now enjoy a smoother commute, eliminating the need to transfer to feeder buses at Byappanahalli.
The daily ridership appears to have exceeded 3 lakh passengers on the first day, with more expected to use the extended Purple Line. Passengers are pleased that they can now traverse the entire Purple Line in just 80 minutes, thanks to the extended route.
Last Updated Oct 10, 2023, 5:01 PM IST