Bengaluru Metro Purple line to stop service on September 21; Check details
The BMRCL will suspend metro train services to Krishnarajpura and Garudacharpalya for a day due to a safety inspection on the KR Puram-Byappanahalli route. Train services will resume after 4:30 PM. The inspection may lead to seamless metro services between Kengeri and Whitefield.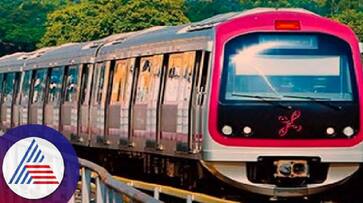 The BMRCL (Bengaluru Metro Rail Corporation Limited) has announced the stoppage of Metro Railway services up to Krishnarajpura and Garudacharpalya for an entire day on Thursday (Sept 21). This decision is made in preparation for a safety inspection conducted by the Metro Safety Commissioner specifically between Krishnarajpura (KR Puram) and Byappanahalli, which marks the new extended route of the city's metro system.
During this inspection, there will be a complete suspension of metro train services to KR Puram and Garudacharpalya. Trains will not be operational from Baiyyappanahalli to Indiranagar Metro Station between 1.30 PM and 4:30 PM.

Bengaluru: Inspection of Byappanahalli - KR Puram metro line delayed; here's why
However, the train service between Whitefield (Kadugodi) and Garudacharapalya will continue to operate as usual. Additionally, railway services will be available between Indiranagar and Kengeri from 1:30 PM to 4.30 PM. The metro service will maintain its regular schedule between Byappanahalli and Kengeri metro stations until 1.30 PM and will resume after 4.30 PM, running until 11 PM.

Bengaluru's entire Purple line metro likely to be fully operational by September 15: BMRCL
BMRCL has requested metro passengers to stay informed about these changes in railway traffic and extend their cooperation. The safety inspection scheduled for Thursday, September 21, focuses on the KR Puram-Byappanahalli metro line, which spans approximately 2 kilometres. If the Metro Safety Commissioner grants approval following the inspection, it could pave the way for uninterrupted metro services between Kengeri and Whitefield. Such a development would significantly benefit the multitude of tech professionals residing in Whitefield, which stands as Bangalore's prominent IT hub.
Until now, due to the incomplete construction of the KR Puram-Byappanahalli route, commuters traveling from Kengeri to Whitefield had to alight at Byappanahalli, covering the remaining 2 kilometers by bus before continuing their metro journey from Kr Puram. The forthcoming safety inspection holds the promise of streamlining this route, alleviating these inconveniences for passengers. However, the date for the safety inspection of the Kengeri-Challaghatta extended line is yet to be decided.
Last Updated Sep 20, 2023, 2:46 PM IST