Bengaluru: Inspection of Byappanahalli - KR Puram metro line delayed; here's why
The eagerly anticipated Commissioner of Metro Rail Safety (CMRS) inspection for Bengaluru Metro's Purple Line, from Baiyappanahalli to KR Puram, has been postponed. The delay has left commuters disappointed, with no rescheduled date confirmed. The Purple Line is expected to significantly boost passenger traffic once operational.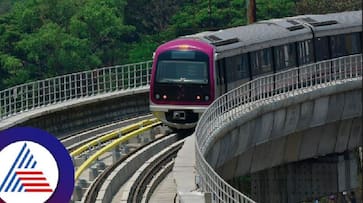 The eagerly awaited inspection of Bengaluru Metro's Purple Line, which runs between Baiyappanahalli and KR Puram, has faced a setback as the Commissioner of Metro Rail Safety (CMRS) inspection scheduled for Wednesday has been postponed. This delay has left metro passengers in this area disappointed, with no fixed date for the next inspection.
Initially, the CMRS was set to inspect the East-West Corridor of the Purple Line on September 13, starting at Benniganahalli station at 9.45 a.m. and proceeding to KR Puram via motor trolley. The inspection was to include the examination of an open web girder bridge at 11:45 a.m.

Bengaluru's entire Purple line metro likely to be fully operational by September 15: BMRCL
Later in the day, at 4.40 pm, the CMRS team was supposed to inspect the rolling stock from Benniganahalli to Baiyappanahalli and conclude with a light run to Nadaprabhu Kempegowda station, Majestic, around 6.30 pm. The inspection timings for the metro line between Kengeri and Challaghatta were not available.

Bengaluru: KR Puram - Byappanahalli metro inspection to commence from today
However, the CMRS inspection had to be rescheduled due to changes in the program, despite BMRCL's readiness. BMRCL Managing Director Anjum Parvez had previously requested the CMRS to expedite the inspection process to allow route operations to commence on September 15.
The Purple Line connects East and West Bengaluru, with the Baiyappanahalli to KR Puram section being a key extension. Once operational, it is expected to significantly increase passenger traffic, from 75,000 to around 1 lakh passengers. While the delay in the inspection has caused frustration, BMRCL remains committed to initiating operations as soon as the inspection is completed.
Last Updated Sep 13, 2023, 4:19 PM IST