Actress Malavika Avinash's Aadhar misused: Learn how to protect your information
Actress Malavika Avinash raised concerns about her misused Aadhaar card, emphasizing data security. Her mobile service was suspended due to an unauthorized SIM card obtained with her Aadhaar. To check Aadhaar misuse, she advised using UIDAI's Authentication History tool on their official website and reporting any issues to UIDAI via phone or email.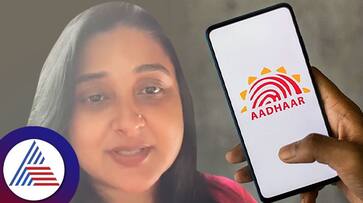 Actress Malavika Avinash recently shared on social media that her Aadhaar card had been misused, highlighting growing concerns about the security of Aadhaar data. She cautioned people to be vigilant when sharing their Aadhaar information and questioned how someone could use her Aadhaar card with her photo.
Malavika Avinash received a message from the Telecom Regulatory Authority of India (TRAI) informing her that her mobile service had been suspended and she should call the provided number for further details. When she called, she discovered that a SIM card had been purchased using her Aadhaar card in West Mumbai, and it had been used to send harassing messages. The Information Officer informed her that her mobile service was suspended because TRAI had received complaints about this.

Massive data breach exposes 81.5 crore Indians' details: ICMR data allegedly on sale, CBI probe expected
To get more information, Malavika contacted the sub-inspector of the Mumbai police station where the case was registered. They shared details about the case and recorded Malavika's statement via video call, which was submitted to the court to request the cancellation of the unauthorized SIM card.
Malavika Avinash revealed that she had used her Aadhaar card for various purposes, including at the airport, hotels, and even during a movie contract. She expressed uncertainty about where and how her Aadhaar card was misused.

Ram Mandir's prana pratishtha: Aadhar card a MUST to attend ceremony on Jan 22; know guidelines
To check for Aadhaar misuse, you can use a tool called Aadhaar Authentication History on the official UIDAI website. Here's how to use it:
1. Visit UIDAI's official website at uidai.gov.in.
2. Click on the 'My Aadhaar' option, which is found at the top left side of the website.
3. Select 'Aadhaar Authentication History' in the Aadhaar Services section on the new web page.
4. Login using your Aadhaar number and security code, and then click 'Send OTP.'
5. Enter the OTP received on your mobile for verification and click 'Proceed.'
6. You will see your Aadhaar card details and previous verification requests on the screen.
If you discover that someone else has used your Aadhaar card, you can report it to UIDAI through their toll-free number 1947 or by emailing help@uidai.gov.in.
Last Updated Nov 3, 2023, 4:32 PM IST