'Congress is selling state for 40 MP seats in Tamil Nadu': Former Karnataka minister HD Revanna
H.D. Revanna criticizes Congress for prioritizing Tamil Nadu seats over Karnataka's welfare, alleges diversion of Cauvery water for electoral support, defends JD(S)-BJP alliance, praises Shamanur Shivshankarappa, and highlights Deve Gowda's efforts for minorities.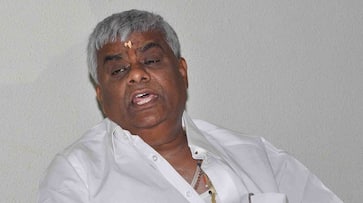 Former Karnataka minister H.D. Revanna has criticized the Congress for prioritizing their interests in securing 40 seats in Tamil Nadu for the upcoming Lok Sabha elections over the welfare of their own state. He expressed frustration over the diversion of Cauvery River water, alleging it was done to gain electoral support in Tamil Nadu, despite earlier Congress support for the Cauvery Tribunal.
Revanna accused the Congress of engaging with communal parties when convenient and urged them to avoid such alliances. He emphasized his dedication to supporting minority communities and highlighted former Prime Minister Deve Gowda's role in advocating for minority rights.

'I have not joined Congress, I am just supporting govt': Karnataka MLA MP Lata
He defended the JD(S) alliance with the BJP, clarifying it wasn't an attempt to conceal their party and noted Prime Minister Modi's respect for Deve Gowda.

'Karnataka is reigned by demons...' MP Pratap Simha slams Congress govt
He criticized the Congress while praising Shamanur Shivshankarappa's statement, suggesting Shivshankarappa could have become a Union Minister with the BJP. Revanna also discussed Kumaraswamy's contributions to minorities and questioned why some leaders changed affiliations over time. 
He highlighted Deve Gowda's efforts in securing reservations for minorities and credited the JD(S) for providing opportunities to minorities and backward classes.
Last Updated Oct 5, 2023, 4:12 PM IST