ATK Mohun Bagan continues to stay at the top of the Indian Super League 2020-21 table with its third loss, while NorthEast United FC has risen to the fifth spot with its fourth win. ATK was the defending champion from last season, before MB merger, while NEU is yet to win the title.
ATK Mohun Bagan came up with reality check following a thin 1-2 loss to NorthEast United FC during the 2020-21 Indian Super League at the Fatorda Stadium in Bengaluru on Tuesday. While ATKMB continues to stay on second, NEU has risen to fifth.
It all began with Machado's opening strike in the 60th minute for NEU, while Roy Krishna levelled it in the 72nd. Federico Gallego did a commendable job to restore NEU's lead in the 81st minute, as it eventually turned out to be the winner.
Following the game, ATKMB boss, Antonio Lopez Habas believed luck was not on its side, while some referring decisions went against it. "We were better in the first half and missed few chances, but in the second half, the referee didn't get his decision right. It completely changed the match for us. I think it was a foul ( by Machado on Tiri in build-up to the goal), the linesman had his flag up, but we didn't get the free-kick. I think we didn't have any luck. I don't understand why he (referee) had to allow the goal to stay when the linesman had put the flag up."
ALSO READ: ATK Mohun Bagan shocked by NorthEast United FC in a thriller
"David Williams had a muscle problem, so we had to replace him at half-time. It was good for Roy (Krishna) to get the goal, but it''s disappointing to lose the game," he added.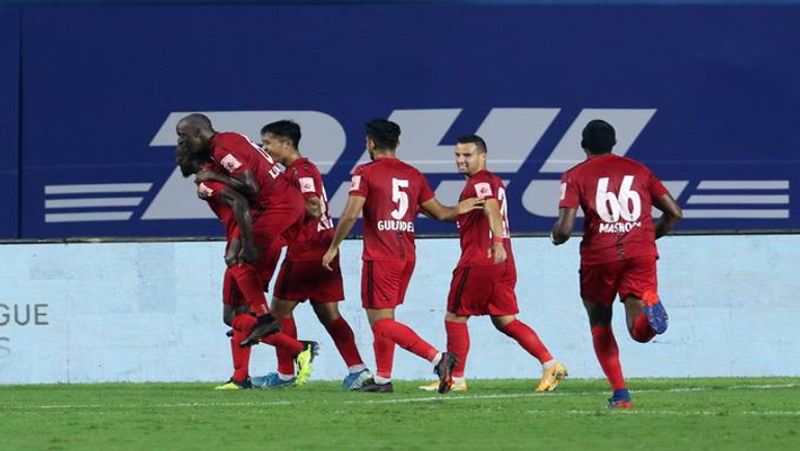 NEU's interim manager, Khalid Jamil acclaimed his side's hard work by stating, "Everybody worked hard and we deserved the result. It was a collective effort. Gallego and Machado are very brilliant and have the experience. I told them to play their natural game. That's how they scored the goals and I am very happy. We are only thinking about the next game and we are playing against one of the best teams in ISL next (Mumbai City FC)."
NEU goal-scorer, Luis Machado, too, hailed the team's hard work by pronouncing, "I think we all played a fantastic game and everyone in the team worked hard for it. I think we deserved the win. For us, it's important to reach the playoffs. It doesn't matter if it's Gerard (Nus) or Khalid (Jamil). I am comfortable playing anywhere in the front line and help the team as much as I can."