ATK Mohun Bagan is currently placed at the top of the 2020-21 Indian Super League table, while Hyderabad FC is at the fourth spot. ATKMB is making its debut this season and has qualified for the playoffs, while Hyderabad FC is yet in contention.
Indian Super League giant ATK Mohun Bagan came up with a lacklustre performance to be held for a 2-2 draw by a ten-man Hyderabad FC during the Indian Super League 2020-21 at the Tilak Maidan in Goa on Monday. While ATKMB stays atop the table, Hyderabad is at the fourth spot.
While Chinglensana Singh was handed the red card in the fourth minute, Hyderabad's Aridane opened the scoring in the eighth minute, as Manvir Singh levelled it in the 57th. Roland Alberg restored Hyderabad's lead at 75th before Pritam Kotal drew level again at 93rd for the draw.
Following the game, ATKMB boss Antonio Lopez Habas lashed out at his boys for putting up an obscure performance against a ten-man side. "I am very disappointed with our performance tonight. We didn't win, despite playing against only ten men. Hyderabad FC was the better side by miles. We had to win today to claim the shield. But now, we have to play against Mumbai City FC, in a high-pressure game, to seal the deal," he said, reports Sportstar.
ALSO READ: ATK Mohun Bagan held by 10-man Hyderabad FC
"We had a numerical advantage early on today and we didn't capitalise. We missed Marcelinho in the middle. He has a minor injury and I hope he's back for the next match. We have a few suspensions and hence, we have to prepare extra hard for the Mumbai game. I'm expecting my players to bounce back soon and I know they will do it," he added.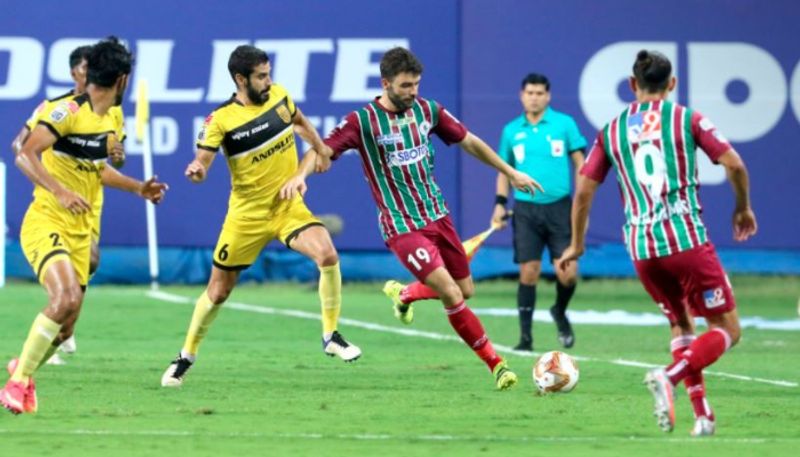 On the other hand, Hyderabad manager Manolo Marquez was relatively pleased with the performance his boys pulled off, despite being a man down. "This was a very good performance from my team. We were down to ten players as early as the fourth minute against ATKMB. It's impossible to not be proud of my players because it was difficult out there. It is a shame that we conceded that last goal. But, I have no complaints whatsoever. With one player less, we made it more difficult for the opponent. We attacked only when there was space. So, it was difficult for them to run through us. We were a bit compact at the back," he hailed.
"I don't know how many injury-time goals have been scored this season. They said ATKMB's second goal was offside, but I don't like to complain. It's very easy to cry when the decision goes against your side and stay silent when it goes your way. Referees and linesmen can be wrong at times. We still have a good chance to make the playoffs. So, we'll keep fighting. If we reach the playoffs, I will be very happy. If we don't, I'll congratulate the other four teams and move on," he concluded.