'Will not wear torn jeans, indecent attire...' College in Kolkata makes students sign affidavits
This move has sparked debates about freedom of expression and decorum within educational institutions. The college administration argues that it's essential to maintain a formal environment, while students and some teachers express concerns about stifling self-expression.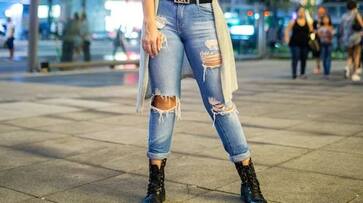 A controversial notice has been issued by Kolkata's Acharya Jagadish Chandra Bose College, requiring undergraduate students to submit an affidavit as part of their admission process. This affidavit contains a declaration pledging not to wear attire considered "indecent," such as torn jeans, within the college premises. 
The statement in the affidavit asserts, "Upon being admitted to Acharya Jagadish Chandra Bose College, I commit to refraining from wearing torn or artificially torn jeans or any attire deemed indecent while within the college premises. I hereby affirm my intention to wear appropriate clothing during my entire tenure within the college."
Furthermore, parents of the students are also requested to provide a similar undertaking. The college's admission notice on its website explicitly states that only formal attire is permitted, and it states, "Commencing from 07.08.2023, torn jeans are strictly prohibited. Only formal attire is permissible."
Notably, this is not the first time AJC Bose College has issued such a notice; a similar advisory was issued last year, urging both students and staff not to wear "torn or artificially torn jeans" due to their perceived indecency.
Principal Purna Chandra Maity clarified the college's stance, saying, "Last year, we issued a comparable advisory to our students. However, despite the notice, some students continued to wear torn jeans to the college. We do not wish for our students to appear on campus in such attire. I will not allow anyone to wear such indecent clothing on college premises." 
"To take a firm stand, we have decided to issue this advisory for incoming students this year. Additionally, they must provide written assurance that they will not wear such attire before gaining admission. They are free to wear such clothing outside the college."
Maity emphasized that students would only gain access to the admission fee payment portal after both they and their parents had signed the affidavit. He added, "Torn clothing does not align with the decorum expected at an educational institution. Students must adhere to college regulations and understand the importance of dressing appropriately in a formal academic setting."
While the college administration defends the move as an effort to maintain a certain standard of decorum, some students and teachers have voiced concerns that it restricts students' freedom of expression and could potentially lead to negative reactions.
Last Updated Sep 1, 2023, 9:18 AM IST