West Bengal: Students write to PM Modi demanding free mobile and internet services for online classes
Students of remote villages in West Bengal wrote a letter to Prime Minister Narendra Modi demanding free mobile and internet service for attending online classes. This incident was reported from Goghat in Hooghly.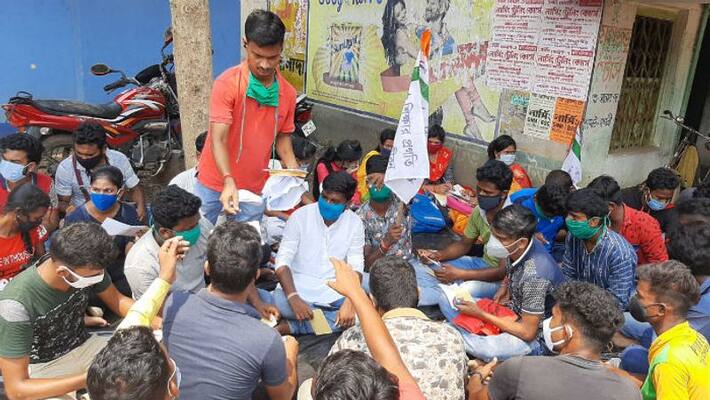 Online classes are going on everywhere because schools and colleges are closed due to COVID-19 pandemic. Many students in remote areas cannot attend online classes because they can't afford to buy smartphones. In this situation, the students wrote a letter to Prime Minister Narendra Modi demanding free mobile and internet. This astonishing incident was reported in Goghat of Hooghly.
Most of the people in the remote villages of Goghat block of Arambagh subdivision depends on agriculture for their livelihood. Therefore, the villagers cannot afford to buy expensive mobile phones for their children.
Also read: West Bengal: Mangla Haat traders submit memorandum demanding opening of market before Durga puja
The Trinamool Chhatra Parishad of Goghat No. 1 block took the initiative to gather students and write to Prime Minister Narendra Modi addressing the issue. Students appeared in the area adjacent to Goghat police station and wrote a letter to the Prime Minister
Syed Ashiq Hossain, president of the Trinamool Chhatra Parishad, Goghat No. 1 Block, said, "Online study has become essential now. So, the Prime Minister should give Android phone to every student free of cost in the interest of education."
Also read: WB Anandpur case: State government to bear all the medical expenses of Nilanjana Chatterjee
Besides, Goghat Trinamool Chhatra Parishad also demanded a free internet system.
Time will tell whether this initiative will be beneficial to the students or not.
Last Updated Sep 10, 2020, 3:14 PM IST