West Bengal-Sikkim highway damaged due to landslide on NH-31, traffic disrupted
A landslide on National Highway 31 in Siliguri disrupted traffic completely. Communication with Sikkim too has been completely cut off. Dooars were affected and many vehicles were stuck on the highway.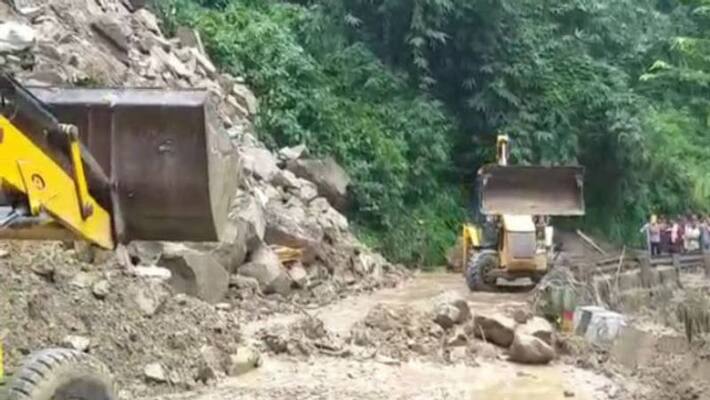 Siliguri: A massive landslide occurred in Siliguri after several days of scattered rains. Traffic has been completely disrupted due to the landslide on National Highway 31. Communication with Sikkim has been completely cut off. Dooars have also been affected due to the landslide.
According to reports, On Wednesday (September 9) morning, a sudden landslide took place in the area adjacent to Kali Mandir of Sevoke on National Highway No. 31. Due to the landslide on the road, communication with Sikkim was completely cut off for a while. Not only that, but the movement of vehicles in Siliguri and Sikkim along with Dooars was also greatly affected. Communication with Kalimpong was cut off.
Also read: Kolkata: Biker critically injured after being hit by speeding government bus at Dalhousie intersection
As soon as the matter came to the notice of the administration on the national highway, the work of removing the landslide from the road started. Traffic was disrupted in Siliguri for several hours. Many vehicles got stuck on the national highway due to the landslide. Daily commuters faced great difficulty due to landslide.
Also read: Tollywood actress Ankita Majumder Paul blessed with baby girl
Incidentally, scattered rains have been falling in different districts of North Bengal for several days. At the same time, it also rained in the hills. The landslide occurred due to the heavy downpour. Many a time, heavy rains have caused landslides in Sevoke area. Traffic on National Highway 31 was disrupted from time to time.
 
Last Updated Sep 9, 2020, 5:04 PM IST