West Bengal govt to serve egg, chicken, fruits in mid-day meals for 4 months
Ahead of the panchayat elections due this year, the West Bengal government has decided to introduce chicken and seasonal fruits in mid-day meals for a four-month period from January. In addition to the existing midday meal menu of rice, potato, soybean and eggs, chicken and seasonal fruits will be served weekly once for additional nutrition under PM POSHAN.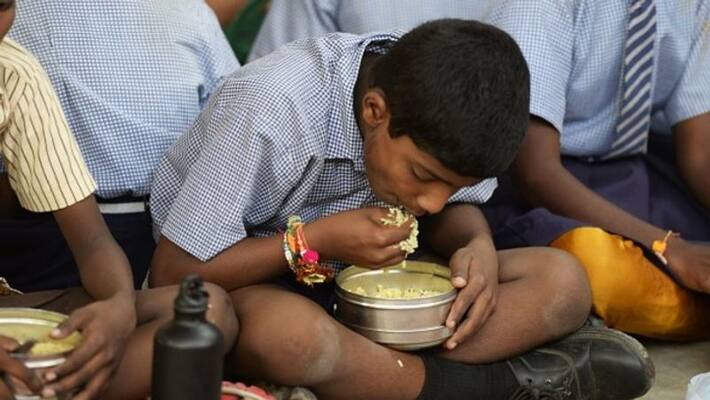 The West Bengal government has decided to serve chicken and seasonal fruits in mid-day meals for a period of four months starting January. An argument between the Trinamool Congress, in power, and the BJP, in opposition, has been sparked by the development, which occurs before panchayat elections in 2023. 
Under PM Poshan, chicken and seasonal fruits will be offered once a week in addition to the current midday meal of rice, potato, soyabean, and eggs to provide additional nourishment.
"For four months, from January 23 to April 23, additional nourishment will be provided by eggs, poultry, and seasonal fruits, which may be coupled with regular PM-POSHAN on a weekly basis. Each kid would pay an extra Rs 20 per week for supplemental nourishment," the education department of the state government said in the notification.
Also Read | Air India 'urination' incident: Accused Shankar Mishra changing locations to evade arrest
The provision of additional items, however, is unlikely to continue after April, a school department official told news agency PTI. An amount of Rs 371 crore has been sanctioned for the extra nutrition scheme.
Currently, schools serve rice, pulses, vegetables, beans, and eggs to students as part of their midday meals. According to the January announcement, each kid would receive supplementary nutrition assistance once a week for 16 weeks at a cost of Rs 20.
Also Read | MCD Mayor elections: AAP, BJP leaders lock horns with each other as ruckus breaks out at Civic Centre
The mid-day meal programme, which is funded by a 60:40 cost-sharing arrangement between the state and the centre, benefits more than 1.16 crore kids in state-run and government-aided schools. An official informed PTI that "the additional foods would be given with immediate effect in every block on various days of the week."
TMC's Rajya Sabha MP Santanu Sen said party supremo and West Bengal Chief Minister Mamata Banerjee always stands by the side of the common people, and this decision "reaffirms that fact".
Also read: Census delayed further; states told to freeze their borders
Last Updated Jan 6, 2023, 1:10 PM IST