WATCH: Viral video offers breathtaking aerial view of thunderstorm at 35,000 feet
The article discusses the familiar imagery associated with thunderstorms and a viral video capturing a unique aerial perspective of a thunderstorm at 35,000 feet shared on Instagram.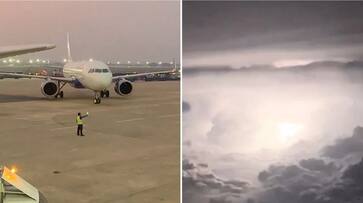 The term "thunderstorm" typically conjures a variety of mental images related to this natural weather event. Most people associate it with the visual aspects, including dark clouds, lightning, strong winds, heavy rain, and the dramatic atmospheric changes that occur as a thunderstorm approaches. These changes often include a darkening sky and shifts in air pressure.
While observing a thunderstorm from the Earth's surface is a common experience, a recent social media post featured a unique perspective: a video captured from an airplane, providing an aerial view of the storm. According to the user who shared it, the footage was filmed at an altitude of 35,000 feet above the Earth.
This captivating video was shared on Instagram by a user named Param. The video includes text overlay that poses the question, "Ever wondered how thunderstorms at 35,000 feet look like?"
The video itself commences with intense bursts of lightning illuminating the entire sky, leaving many viewers in awe of the thunderstorm's incredible power and beauty.
Since its posting on Instagram, the video has gone viral, amassing over 57,000 likes. Numerous individuals also took to the comments section to share their thoughts and reactions to this remarkable footage.
One user humorously commented, "People living in the clouds are having a house party."
Another user imagined a scenario, writing, "Imagine your horoscope saying to be careful today... And on your flight, you see this."
A third user offered a playful perspective, suggesting, "Someone's running around with a flashlight in those clouds."
This video provides a fresh and captivating glimpse into the majestic yet formidable nature of thunderstorms, offering a unique perspective that captures the imagination of viewers worldwide.
Last Updated Sep 5, 2023, 11:41 AM IST