WATCH: Hyderabad cops' dance alongside devotees during Ganesh Visarjan goes viral
The article describes an uplifting scene where policemen joined devotees in dancing during a 'Ganesh Visarjan' procession in Hyderabad, fostering a sense of unity and celebration.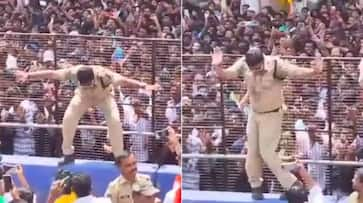 During the 'Ganesh Visarjan' procession in Hyderabad, a delightful surprise awaited several devotees as policemen enthusiastically joined them in dancing. The heartwarming scene unfolded at Hyderabad's NTR Marg as the Ganpati festival concluded, spreading joy and unity among the participants.
Videos capturing this unexpected and joyous moment have gone viral on social media, showcasing police officers dancing alongside devotees in Khairatabad. Notably, this year, a towering 63-ft tall Ganpati idol graced the Khairatabad area.
From senior officers to the most junior ranks, it seemed as though the entire police force had decided to partake in the festivities, dancing and celebrating with the public. One policeman even showcased his freestyle dance moves while standing on a wall, capturing the attention of onlookers and cameras alike.
The Hyderabad Police shared glimpses of several Ganesh processions that traversed through the city, further highlighting the communal spirit of the event.
In preparation for the immersion of about 90,000 idols of Lord Vinayaka in Hussain Sagar and various other lakes and water bodies during the 'Nimajjanam' (immersion) process in Hyderabad, the police put comprehensive security arrangements in place to ensure a smooth and safe event.
With over 30,000 security personnel reportedly on duty in the city for the duration of the immersion, the event is expected to continue until Friday.
Last Updated Sep 28, 2023, 5:32 PM IST