WATCH: Delhi makeup artist terrifies and amuses people on streets as 'Demon Nun' in viral prank video
A Delhi-based makeup artist's viral video where she transforms into the Demon Nun character from the film 'The Nun' to prank people on the streets garners widespread attention and amusement on social media.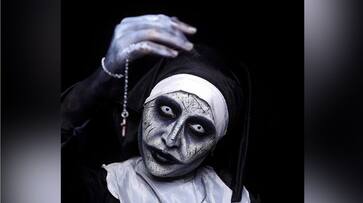 Makeup experimentation is a widespread passion, with enthusiasts ranging from personal users to professional makeup artists. This craft demands significant time and dedication to attain mastery, and it has gained immense popularity on the internet, with viral videos showcasing astonishing body transformations through makeup.
Similarly, a makeup artist hailing from Delhi embarked on an intriguing journey by transforming herself into the eerie character of the Demon Nun from the immensely popular horror film 'The Nun.' Her mission? To play light-hearted pranks on unsuspecting individuals on the streets, and the result of her endeavor has quickly become a sensation on social media.
Iza Setia, the talented makeup artist, shared this captivating video on her Instagram account. The viral clip captures her as she peers out of a car window, sporting a spine-chilling expression that perfectly embodies the Demon Nun character. Within the video, one observer openly admires her exceptional makeup skills, acknowledging her ghostly appearance. Some onlookers couldn't help but flee in fright, while others praised her transformation as "very cool." Iza even graciously posed for photographs with amazed Delhi residents.
As the video concludes, a montage of clips showcases the heartwarming reactions of those who, initially startled, burst into laughter upon discovering that Iza had played a lighthearted prank on them. Their delightful responses add a touch of humor to the entire experience. Since its initial sharing, this Instagram reel has garnered an impressive six lakh likes and an astounding seven million views.
A user enthusiastically commented, "BEST BEST BEST THING I SAW ON INTERNET TODAY."
Another commenter praised Iza with a spirited, "Hattssss off to you girl."
A third user noted, "She's dressed for the hunt. Look at those running shoes."
Another individual remarked, "Wow, but literally, that look can frighten anyone... Need part 2 please."
Another user simply expressed, "Crazy."
Someone commented, "The most unique video, unexpected from an MUA. Keep growing."
Another commenter praised Iza, stating, "You are amazing."
Last Updated Oct 11, 2023, 4:22 PM IST