Uttar Pradesh minister lashes out at protesters, says 'will bury alive those who raise slogans against PM Modi, Yogi Adityanath'
BJP leader Raghuraj Singh lashed out at the students of Aligarh Muslim University for raising baseless slogans against Prime Minister Narendra Modi and Uttar Pradesh chief minister Yogi Adityanath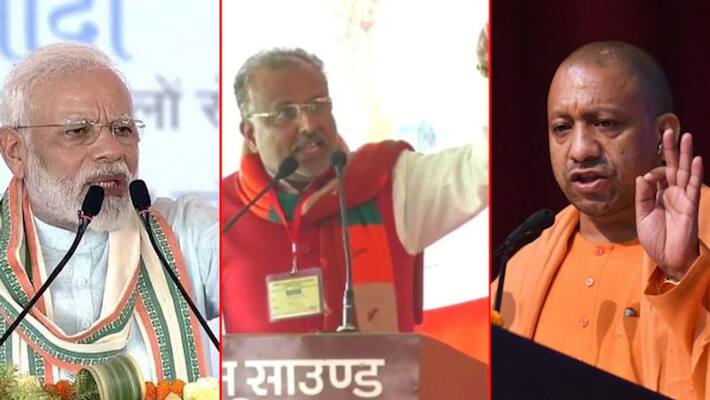 Aligarh: Bharatiya Janata Party (BJP) leader Raghuraj Singh had enough of people mocking Prime Minister Narendra Modi and Uttar Pradesh chief minister Yogi Adityanath. 
Referring to the protests held by students of Aligarh Muslim University, Singh said, "You will take tax money for your university and raise slogans against chief minister Yogi Adityanath and Prime Minister Narendra Modi? I will bury you alive," Singh said.
The minister was addressing a public gathering on Sunday (January 12) organised in support of the newly amended citizenship law. However, the BJP leader expressing his anger made its way to social media on Tuesday (January 14).
Asserting that the National Register of Citizens (NRC) will be implemented across the country, he said that people have the right to stay in the country, but "this is not a Dharamshala".
"I want to tell the (Aligarh) Muslim University that the Muslims in Aligarh are very peace-loving. However, if you gherao our officials and Muslim brothers, we will beat you. We will not leave anyone," Singh said.
Talking about the riots in the state during anti-CAA protests, he said that less than 1% of the people are criminal-minded.
"If Pakistan raises its eyes, it will not be seen on the map. If China bats an eye, we will respond to its bullets with bullets. Prime Minister Narendra Modi is not scared of anyone," he said.
Earlier, Jharkhand Congress MLA, Irfan Ansari grabbed the headlines after stooping down to a new low, while making offensive comments on the Prime Minister.
'Jo apni maa ka nahin hua, Patni ka nahi hua, wo desh ka kya hoga' (Someone who couldn't belong to his mother, his wife, how will he belongs to the country), Irfan had said.
Other leaders from the Opposition, including West Bengal chief minister Mamata Banerjee, had claimed that the Prime Minister failed to take care of his wife and how he would take care of the country.
Last Updated Jan 14, 2020, 10:13 AM IST