Shivraj Singh Chouhan, Kailash Vijayvargiya celebrate their friendship with Sholay's song; watch viral video
Madhya Pradesh CM Shivraj Singh Chouhan and BJP general secretary Kailash Vijayvargiya sang 'Yeh dosti hum nahi todenge' at a 'bhutta party' in Bhopal.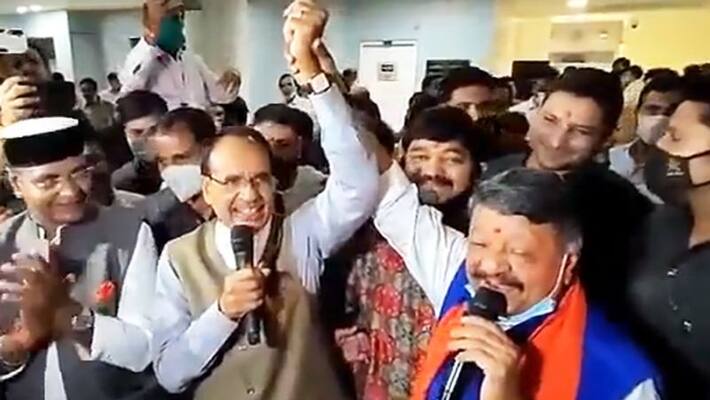 Bollywood songs are compatible with specific events also express the sentiments of people. One such video of Madhya Pradesh CM Shivraj Singh Chouhan and BJP's national general secretary Kailash Vijayvargiya crooning a song from the movie 'Sholay' has emerged on social media.
In the video, the two BJP leaders are singing 'Yeh Dosti Hum Nahi Chhodenge', which celebrates friendship. On Wednesday evening, the duo sang together at a 'bhutta party' in Bhopal, and MP CM Chouhan shared this video on Twitter. While sharing the video, Shivraj Singh Chouhan also tagged Amitabh Bachchan and Dharmendra, who features in the original song.
During their performance, at one point, Vijayvargiya holds Chouhan's hand and raises it in the air. Several ministers and politicians, including the opposition leaders, we're also cheering the duo.
The 'bhutta party' was attended by the ruling BJP and opposition Congress MLAs. Former CM Kamal Nath has also participated in the party. The duo concluded the song by wrapping their arms around each other. They have been cheered by the people around them. Kailash Vijayvargiya and Shivraj Singh Chouhan were friends since they entered politics. In the past, too, they were seen singing together on public platforms. Watch the video.
Last Updated Aug 12, 2021, 1:22 PM IST