Running the party like Hitler: BJP workers slam district president
A few leaders and workers are angry over the Birbhum party district president. Factional strife has made an appearance in state leadership and the BJP is facing hurdles in Birbhum.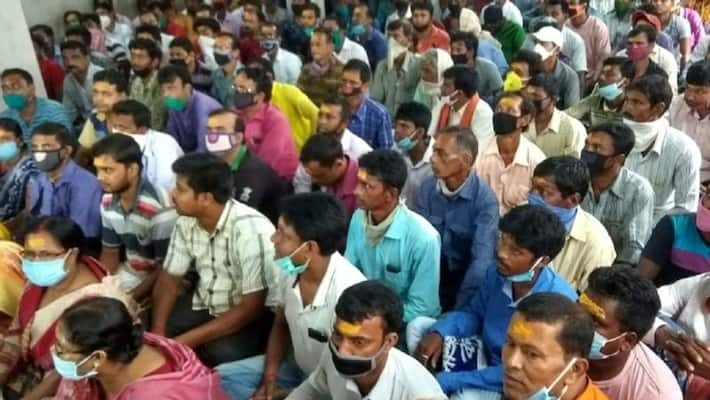 Kolkata: Anger was seen among BJP workers against their district president. This time a section of BJP workers and supporters involved in factionalism displayed their ire in front of the party leadership in the state. The BJP seemed to be in trouble in Birbhum.
As the Assembly election is approaching, the BJP leadership is gearing up to strengthen the organisation across the state. District assistant observer Vivek Sonkar held a meeting with local constituency presidents at Rampurhat No. 1 block and Mohammad Bazar in Birbhum on Wednesday (August 26). The meeting was attended by district president Shyamapada Mandal and many others.
When district assistant observer Vivek Sonkar entered the party's office in the Kamarpatti area of Rampurhat town, BJP workers and supporters surrounded him from all sides. They allege that the district president Shyamapada Mandal is 'running the party like Hitler'. He has made the old workers feel very unimportant, they alleged. Those who were given the responsibility of the organisation are not loyal to the team, they claimed. The situation was handled with the assurance given to the dissidents to sit for a discussion.
However, this was not the end. The BJP's assistant observer in charge of Birbhum district had to hear complaints about the district president while going to a meeting at another location in the afternoon on the same day. He has acknowledged the growing tension within the party before the Assembly elections.
Vivek said, "There is no permanent president in the BJP for a lifetime. The tenure ends every three years. The BJP workers and supporters wanted to sit with me for a discussion. We sat in a different location and sorted out the problems. They are happy now."
Jhalak Mandal was once the BJP president in Nalhati No. 2 block. He said, "The district president has removed 33 zonal presidents at once and appointed people of his own choice. Most of them have no contact with the president's staff. They spoke against the party on Facebook. They even threatened to kill the workers. Our demand is that the constituency president should be appointed on the basis of the election.''
Anil Singh, another BJP leader from Nalhati, complained, "Even though I am on the district committee, I am not allowed to hold any meetings. I am not being called to any important discussion or meetings. If we want to strengthen the organisation, we have to give up the narrow mind of thinking."
What is BJP Birbhum district president Shyamapada Mandal saying?
He said, "We sat with them. I said I will give them more important positions. But they do not want to listen. The BJP is an organised party. Not everything happens as per the wish of people.''
Last Updated Aug 27, 2020, 5:34 PM IST