Ram Temple Bhoomi Pujan: PM Modi offers prayers to Ram Lalla after 29 years
PM Modi was gifted with a headgear, silver crown and a stole at the Hanuman Garhi temple after his prayers.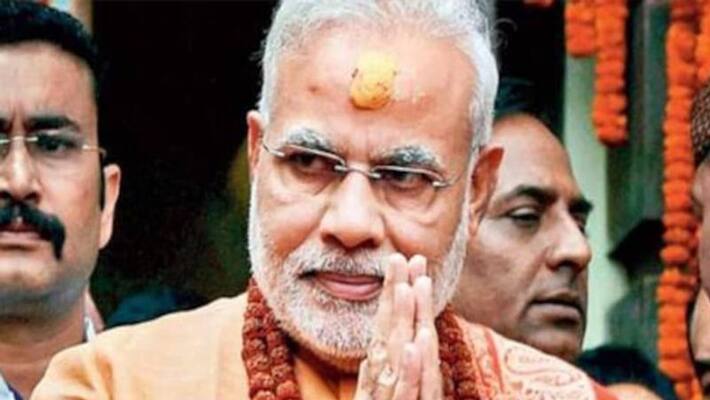 Ayodhya: After offering prayers to Lod hanuman at Hanuman Garhi, Prime Minister Narendra Modi was presented with a silver 'mukut' by Sri Gaddinsheen Premdas Maharaj, head priest of Hanuman Garhi Temple.
Later, he offered prayers to Lord Ram at Ram Lalla Virajman temple before heading out for plantation drive at the Ram Janmabhoomi site.
PM Modi planted a sapling of 'Parijaat' in the premises of the temple. But there are several things that make this plantation of the 'Parijaat' sampling unique.
The 'Parijaat' plant is associated with holiness according to the Hindu mythology. But apart from that, even the manner in which PM Modi would be planting the sapling would make this unique.
PM Modi used the natural drip irrigation method while planting the Parijaat plant. Drip irrigation is a traditional method in which an unglazed pot made of clay is filled with water and placed parallel to the roots of the plant, thereby providing it with water for around a week.
The foundation stone-laying ceremony of the Ram temple is a much-awaited occasion and it will take place amidst massive fanfare on Wednesday.
PM Modi would also unveil a plaque that would mark the laying of the foundation stone. Moreover, a commemorative postage stamp would also be released on 'Shree Ram Janmabhoomi Mandir'.
Apart from this, the day would be celebrated with more than 11,000 diyas that would be lit across Ayodhya to light up every street, and all the houses would celebrate 'deepotsava', the festival of lights.
Last Updated Aug 5, 2020, 12:19 PM IST