In Ashok Gehlot's stronghold Jodhpur, PM Modi invokes 'Lal Diary', slams Congress
Prime Minister Narendra Modi accused the Congress party of prioritizing its vote bank over the welfare of Rajasthan's citizens. He vowed to bring development and end conflicts if the BJP came to power. Modi highlighted concerns about corruption, riots, and mistreatment in the state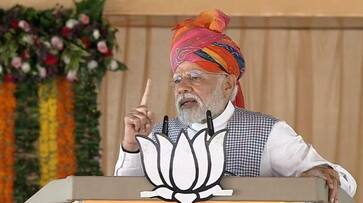 Prime Minister Narendra Modi on Thursday slammed the Congress party and accused the latter of caring more about its vote bank than the people of Rajasthan. Prime Minister Modi's remarks came while addressing a gathering in Jodhpur after laying the foundation stone and dedicating multiple development projects in the poll-bound state. "Congress loves its vote bank more than the interest of people. BJP will come to power and stop riots, bring development," PM Modi said.
Targeting the Ashok Gehlot government, the Prime Minister said: "The BJP government at the Centre is making every effort from its side for the development of Rajasthan. But it is sad to see the situation here. In the last 5 years, Congress has taken Rajasthan to the top in terms of corruption and riots. The Congress has made Rajasthan number 1 in terms of atrocities against women and Dalits. Every child of Rajasthan knows how Congress has given a free hand to the drug trade."
During the rally, Prime Minister Modi invoked the 'Red Diary' controversy. "You all have heard about Lal Diary. People say that every black act of corruption in Congress is recorded in this red diary. If you want the secret of this Lal Diary to come out, then it is necessary for you to form a BJP government here," PM Modi said.
To recall, former Rajasthan minister Rajendra Singh Gudha had publicly displayed a diary, alleging that it held proof of corruption within the Rajasthan Cricket Association (RCA). Gudha specifically implicated Vaibhav Gehlot, the chairman of RCA and the chief minister's son, in these allegations. Subsequently, Gudha accused the Congress party of attempting to blackmail him and fabricating baseless charges after he revealed details of corruption mentioned in the "Red Diary."
As the Rajasthan assembly elections draw near, both the Congress and the Bharatiya Janata Party (BJP) have intensified their public campaigns in the state. Prime Minister Narendra Modi addressed the massive gathering in Chief Minister Ashok Gehlot's home district, Jodhpur, marking his twelfth visit to Rajasthan this year.
In Jodhpur, the Prime Minister unveiled significant projects worth several crores, including the inauguration of AIIMS' Trauma Emergency Critical Center, the library and hostel of Rajasthan Central University, and the launch of the Runicha Express connecting Jaisalmer to Delhi, along with a new train route from Marwar Junction to Kambli Ghat. Additionally, he laid the foundation stone for the new terminal project at Jodhpur Airport.
Narendra Modi remains a key campaigner for the Bharatiya Janata Party, according to political analysts, continuing to draw significant attention and support.
Last Updated Oct 5, 2023, 1:29 PM IST