Rahul Gandhi confident of Congress' victory in upcoming state elections, shares lessons from K'taka polls
Congress leader Rahul Gandhi shared insights gained from the Karnataka assembly elections, highlighting the importance of countering the BJP full form's diversionary tactics in politics. The Congress leader emphasized that the BJP's electoral success often hinges on shifting the public's focus and distorting facts rather than substantive achievements.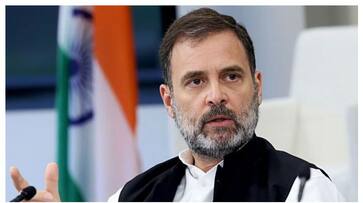 Speaking at an event in New Delhi, Rahul Gandhi stated, "The BJP has not won elections through its accomplishments but by diverting attention and manipulating narratives. Our victory in Karnataka was a testament to our ability to thwart the BJP's attempts to manipulate the narrative. We have learned from the Karnataka elections how to effectively counter the BJP's strategy of diverting attention elsewhere."
Unprecedented 'Janata Darshan' Initiative: Karnataka Addresses Public Grievances Statewide
Rahul expressed confidence in Congress' prospects in upcoming state elections, particularly in Telangana, Madhya Pradesh, and Chhattisgarh. He also noted a closely contested race in Rajasthan, expressing optimism about Congress emerging victorious in these states. Additionally, Rahul Gandhi asserted that Congress is poised for success in all forthcoming assembly elections.
Anticipating the 2024 Lok Sabha elections, Rahul Gandhi suggested that the BJP might face a significant electoral setback, citing the ongoing issues of caste census and the BJP's attempts to shift the focus to topics like "one nation, one election" and renaming India.
Congress leader Rahul Gandhi arrives in poll-bound Chhattisgarh, to launch rural housing scheme today
Furthermore, Rahul Gandhi criticized the BJP's strategy of generating confusion by diverting attention from pressing matters, referencing recent controversies involving BJP MP Ramesh Biduri and Congress MP Danish Ali. He portrayed these tactics as a deliberate ploy to obfuscate critical issues.
Last Updated Sep 25, 2023, 1:32 PM IST