Peril, Persuasion, Power : Ashish Khetan gives us an insider peek into high-stakes Journalism
Ashish Khetan's his book, Undercover: My Journey into the Darkness of Hindutva is a rare and powerful insight into how a journalist of true skill, courage and tenacity can sometimes commit years of their lives to telling just one story, and what it extracts from them.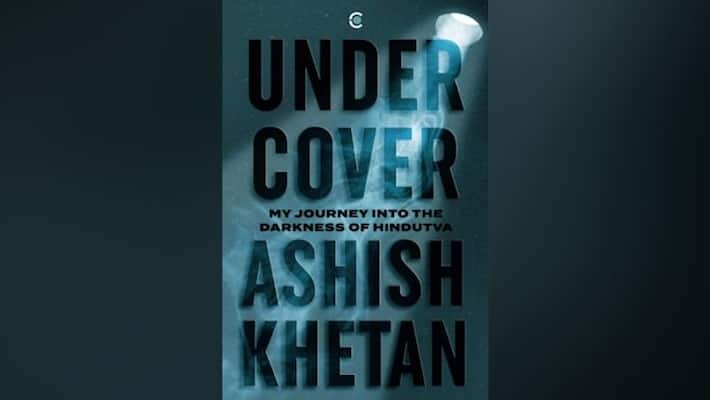 It's hard, in these days when the news media has come to mean tirades on television and corporate-owned print platforms, to think about journalism not merely as a vocation but as a living, breathing, vital public service.
An act of bearing witness. Of seeking and delivering accountability. 
Then, every once in a rare while, along comes a journalist with the capacity to transform not only what we know about a particular event, but about journalism itself, and the mountains it can move when it lives up to its truest potential.
Ashish Khetan is one such journalist, and his book Undercover: My Journey into the Darkness of Hindutva is that rare and powerful insight into how a journalist of true skill, courage and tenacity can sometimes commit years of their lives to telling just one story, and what it extracts from them. 
A memoir of his brilliant investigative reporting over three separate periods between 2004 and 2007 when he went undercover in Gujarat to unearth and tell the true story of the riots that shook the country almost two decades ago, this is not only the definitive account of what happened in 2002, it is a manifesto for the truth; for what it takes to find and tell the truth, for how deeply a story can transform the one seeking it, and for what the truth sometimes costs.
Part of the small but fierce investigative journalism team at Tehelka, alongside veteran investigative reporter Harinder Baweja and under the editorship of Tehelka founder and editor-in-chief Tarun Tejpal, Khetan's undercover mission took him into the heart of the cases that to most of us were just words on TV: Best Bakery and Zahira Shaikh, Ehsan Jafri, Naroda Patiya. Using wire taps and hidden cameras and assuming two different fake identities, Khetan gathered devastating and incriminating first-person evidence from those who were behind the carnage, a mission that in its third phase had him spending almost seven months undercover, putting himself in grave danger every day of those months.
Miraculously, he lived to tell the tale, but the eventual publishing of the horrifying story he had unearthed was not the end of his travails. Instead, the next few years of his life were spent in and out of courtrooms as he was made a prime witness in three ongoing trials against dozens of the accused; his life turned into an endless whirl of testifying in court, defending his methods, placing thousands of hours of footage and pages of documentation on record, putting his evidence up to repeated forensic scrutiny, being attacked and humiliated by aggressive defence lawyers and even judges, and all through it, being at the receiving end of threats of violence and death against himself and his family.
In writing the book, Khetan acknowledges the role Tehelka and its founder-editor Tarun Tejpal played both in giving him the time, space and resources to do his seminal work, and also the courage to publish a story they knew would bring the magazine into deep conflict with the powers-that-be. He writes, in his acknowledgements, his conviction that great journalism almost always happens in an institutional framework put together by a media organisation, and credits Tarun J Tejpal with creating a remarkable magazine like Tehelka, where so many top journalists, long-form and investigative writers, and young reporters first found their journalistic voice, and the company of other brilliant journalists that spurred them on to do some of the most impactful work in Indian journalism.
But in the end this book is not a vanity project for Khetan; rather, his disquiet about the country's present social and cultural fractures has led him to open out what he considers a moment of transformation in contemporary Indian history, an episode that already risks being forgotten less than two decades later despite marking the beginning of a new era in our internal divisions. And he is documenting, in his own way, what journalism can do both in its moment — in the real-time heart of a story — and then decades later, becoming a sort of collective conscience, a public-private act of memory keeping, and of bearing witness to those moments that political establishments want to brush under the carpet or relegate to the graveyard of history.
Above all, he is returning to us, through this book, the journalist not as studio anchor or shouty leader of nightly television debates or as prolific Twitter commentator but as one of the quiet and foundational pillars of our social compact; the one whose job is to drag facts and truths out into the glaring light of day.
Disclaimer: This is a featured content
NOTE: Asianet News humbly requests everyone to wear masks, sanitize, maintain social distancing and get vaccinated as soon as eligible. Together we can and will break the chain #ANCares #IndiaFightsCorona
Last Updated Aug 25, 2021, 9:14 PM IST