'Operation Ajay': India brings back another 235 citizens from Israel
Upon their arrival in India, they were received by Dr Rajkumar Ranjan Singh, the Minister of State for External Affairs and Education. Approximately 18,000 Indian citizens live and work in Israel, providing various services, including caregiving, education, and IT support.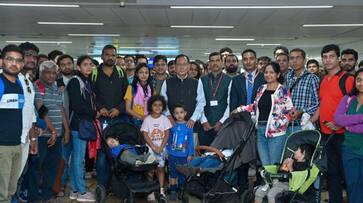 India on Saturday successfully repatriated 235 Indian citizens from Israel, including two infants, as part of the ongoing 'Operation Ajay'. This evacuation effort comes in the wake of ongoing hostilities between Israel and the Palestinian group Hamas, during which 212 individuals had been airlifted out of the region a day earlier.
'Operation Ajay' was initiated by India on Thursday as a response to the escalating conflict caused by Hamas's comprehensive land-sea-air offensive on October 7. The first charter flight, carrying 211 adults and one infant, departed from Ben Gurion Airport late on Thursday to bring Indian citizens back to their homeland.
Upon their arrival at the Indira Gandhi International Airport in the national capital, Dr Rajkumar Ranjan Singh, the Minister of State for External Affairs and Education, extended a warm welcome to the second batch of returning Indian citizens.
The Indian embassy in Israel had meticulously documented the requests of all Indian citizens wishing to depart the country and selected the passengers for the initial charter flight based on a first-come, first-served approach. The government is shouldering the financial burden of their journey home.
Approximately 18,000 Indian citizens have been residing and working in Israel, contributing various services such as caregiving, education, and IT support.
The necessity for this evacuation arose as the region became embroiled in a war following Hamas's land-sea-air assault on Israel. This attack resulted in the loss of more than 1300 Israeli lives, prompting Prime Minister Benjamin Netanyahu to declare a "state of war".
Israeli Prime Minister Benjamin Netanyahu has issued a warning, emphasizing that Israel's retaliatory actions against Hamas, in response to their "surprise" attack last week, are merely the initial steps in addressing the situation. 
Meanwhile, over a million Gazans faced a 24-hour ultimatum on Friday to relocate to the south, although many individuals opted to remain, as Hamas had vowed to defend their territory with unwavering determination. In the lead-up to the deadline's expiration, Israeli forces conducted targeted operations in Gaza over the past 24 hours to eliminate terrorist elements and search for missing individuals.
Last Updated Oct 14, 2023, 8:33 AM IST