'Mera ghar poora Hindustan hai': Congress leader Rahul Gandhi after getting government bungalow back
Congress leader Rahul Gandhi has been re-allotted his old government bungalow, a day after his Lok Sabha membership was restored as per the directive of the Supreme Court. "Mera ghar poora Hindustan hai," said the Congress leader when asked to comment on the development.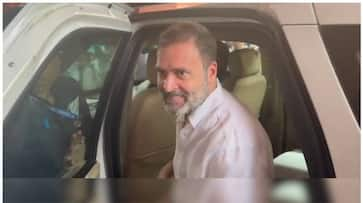 Congress leader Rahul Gandhi has been reallotted his 12 Tughlaq Lane bungalow in Delhi, after his parliamentary membership was restored, sources said on Tuesday. He had vacated the bungalow in April this year, after his disqualification as an MP. When asked for a reaction on getting back his official residence as an MP, Rahul told media, "Mera ghar poora Hindustan hai (Whole of India is my home)".
Gandhi, however, is yet to decide on taking the bungalow and MP has eight days to respond to it, according to the report.
When Rahul Gandhi was elected as an MP from Amethi, Uttar Pradesh, for the first time in 2004, he was given the address 12, Tughlaq Lane house. Aver the years, 12, Tughlaq Lane emerged as the second power centre to 10, Janpath, the residence of his mother Sonia Gandhi.. The former Congress chief relocated to 10 Janpath in the national capital on April 22, giving up his official house.
Also Read | Manipur police files case against oldest paramilitary force Assam Rifles for alleged obstruction
Gandhi was found guilty in the defamation case brought by BJP MLA Purnesh Modi from Surat on March 24, and the Surat metropolitan court handed down a two-year prison term. He lost his eligibility to serve as a member of parliament the next day.
The Gujarat High Court rejected a stay of his conviction in the case last month. Rahul Gandhi's conviction in the Modi surname case was, however, overturned by the Supreme Court on August 4, allowing him to return to the Parliament.
Also Read | 'Nothing less than apology': INDIA leaders submit privilege notice against Piyush Goyal in Rajya Sabha
Last Updated Aug 8, 2023, 6:19 PM IST