Madhya Pradesh Election 2023: Priyanka Gandhi presented with empty bouquet on stage (WATCH)
A video featuring Priyanka Gandhi Vadra receiving a bouquet from party leader at an Indore rally is making the rounds, sparking laughter for an unexpected reason. As the party leader presented the bouquet to Priyanka, it became evident that there were no actual flowers inside.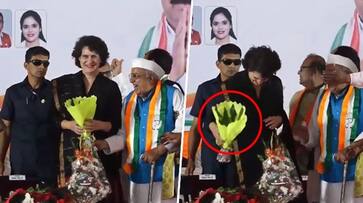 In a rather amusing incident amid the intense political rallies in the poll-bound states, Congress leader Priyanka Gandhi Vadra was presented with an empty bouquet by a party leader on the stage to welcome her during election campaign in Madhya Pradesh's Indore on Monday (November 6). The incident left other Congress leaders including Priyanka in splits.
Priyanka Gandhi was greeted with bouquets by Congress officials as soon as she arrived on stage. During the procedure, one of the leaders gave her an empty bouquet, which Priyanka herself pointed out as they both laughed about it.
Sharing the link, Gandhi Vadra posted on X, "Indore is the land of Maharani Ahilyabai Holkar which is known for justice, truth and good governance. The people here will restore those values by finishing off corruption and bad governance."
Also Read | 'Don't know how you do it, but...': Supreme Court pulls up Punjab govt over stubble burning
The video of the poll meeting showed Gandhi Vadra being welcomed by Congress leaders. One by one, party leaders greeted her. The Congress leader was seen smiling and greeting them back. Some leaders gifted her roses, others posed for photographs with the top leader.
BJP leader Rakesh Tripathi posted a video of the event and jokingly called it a "bouquet scam." The BJP leader tweeted a video of the event, which caused the other leaders on stage to burst out laughing.
On November 17, Madhya Pradesh will have assembly elections, with results to be announced on December 3.  Campaigning for the Madhya Pradesh Assembly polls is underway in full swing as the parties are leaving no stone unturned in attacking each other while trying to woo the voters. The BJP is looking to retain power in the state while the Congress is willing to recreate its 2018 show.
Chhattisgarh Election 2023: CM Baghel optimistic about high voter turnout in Naxal-hit regions
Last Updated Nov 7, 2023, 1:19 PM IST