Madhya Pradesh Election 2023: 'Don't know whether I'll be in jail or...' Kejriwal after skipping ED summon
Addressing AAP supporters in poll-bound Madhya Pradesh, Arvind Kejriwal said that he was not sure whether he would be in jail or out when the Assembly election results will be declared. Despite skipping a summons from a probe agency, Kejriwal took to the streets with a spirited message for the people of the region.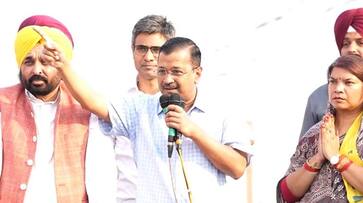 Delhi Chief Minister and Aam Aadmi Party national convener Arvind Kejriwal on Thursday skipped a summon by the Enforcement Directorate in a money laundering case linked to the alleged excise policy scam and held a roadshow in Madhya Pradesh's Waidhan.
The chief minister of Delhi asked the people of Madhya Pradesh to cast their votes for his party in the upcoming assembly elections, and said that he was not sure whether he would be in jail or out when the results are declared but expected the people to show faith in AAP like they did in Delhi and Punjab. 
"I don't know if I will be in jail or somewhere else on the day of counting, but everyone should say that Arvind Kejriwal came to Singrauli and we gave him a historic victory," AAP national convenor said while addressing a roadshow in Waidhan.
Also Read | PM Modi acknowledges 'beti' for bringing his painting in Kanker; assures to write letter (WATCH)
"Just like the people of Delhi and Punjab voted for the AAP, the people of Madhya Pradesh will also do the same in the coming days," he added.
Punjab Chief Minister Bhagwant Mann also accompanied Arvind Kejriwal in the roadshow held at Waidhan in MP's Singrauli district. Earlier today, the Delhi CM demanded that the Enforcement Directorate (ED) withdraw its notice summoning him for questioning, claiming that it was "illegal and politically motivated".
"The said summons is not clear as to the capacity in which I am being summoned i.e. as a witness or a suspect in the above-mentioned case. Please recall the said summons, which is to say the least is vague and motivated and I am advised, unsustainable in law," Kejriwal stated in his letter to the ED.
Also Read | Mahua Moitra storms out of ethics panel meeting, says 'asked filthy questions' (WATCH)
Last Updated Nov 2, 2023, 7:13 PM IST