Lok Sabha Election 2024: INDIA Bloc grapples with seat-sharing woes
The INDIA bloc has chosen to postpone seat-sharing discussions for forthcoming elections while prioritizing joint public rallies and the advocacy of a caste census. This decision highlights the intricacies and debates within the opposition coalition's strategies.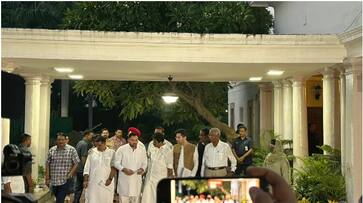 The INDIA bloc on Wednesday deferred the contentious task of establishing a seat-sharing arrangement for upcoming state elections and the 2024 Lok Sabha polls, opting to address it at the state level "at the earliest." Following the inaugural meeting of their 14-member coordination committee, held at NCP chief Sharad Pawar's residence, sources revealed that the allocation of seats among coalition members to challenge the BJP in direct contests would be finalized by the end of October.
While the INDIA bloc of opposition parties expressed its intent to decide the seat-sharing formula at the state level, discussions brought to light the complexities inherent in this endeavour. National Conference leader Omar Abdullah, emerging from the committee's inaugural meeting in Delhi, proposed, "Seats already held by members of the INDIA bloc should not be open for discussion. Our focus should be on seats currently held by the BJP or parties outside our alliance."
This proposed formula could potentially leave certain factions dissatisfied, particularly in different geographical regions. The bloc also decided to commence "joint public rallies" across India, advocate for a "caste census," and notably, compile a list of media programs and TV anchors to boycott.
The Trinamool Congress, whose leader Mamata Banerjee had objected to the inclusion of the "caste census" in the alliance's agenda at the previous meeting in Mumbai, was not represented at this gathering. Coordination committee members mentioned that they would seek the opinions of the TMC leadership and the CPM, another absentee, regarding this issue.
During Wednesday's meeting, an empty chair symbolized the absence of TMC representative Abhishek Banerjee, a gesture registering their protest against the BJP's alleged vindictive politics. Banerjee had communicated with Sharad Pawar, Congress's K C Venugopal, and other committee members, explaining the reasons for his non-attendance and discussing the issues to be addressed.
K C Venugopal initiated the joint press conference after the two-and-a-half-hour meeting, asserting, "Banerjee couldn't attend due to the BJP's vindictive politics and Prime Minister Narendra Modi."
CPM General Secretary Sitaram Yechury, another absentee on Wednesday, had previously discussed the agenda with Sharad Pawar. The coordination committee decided that the INDIA bloc would commence joint public rallies, with the first likely to be held in early October in Bhopal, Madhya Pradesh, which is gearing up for elections.
"The Bhopal rally will spotlight the BJP government's increasing prices, unemployment, and corruption," noted Venugopal. With the coalition partners setting an end-of-October deadline for resolving the seat-sharing matter, Venugopal conveyed, "The coordination committee has initiated the process to determine seat-sharing. Member parties will engage in discussions and reach a decision promptly."
Last Updated Sep 14, 2023, 8:43 AM IST