Kumaraswamy has complete backing of DK Shivakumar to become CM again: HD Devegowda
JD(S) chief HD Devegowda campaigned for local body elections in Ramanagara. The former Prime Minister spoke about future plans of the party and reminisced about DK Shivakumar's contribution in forming the coalition government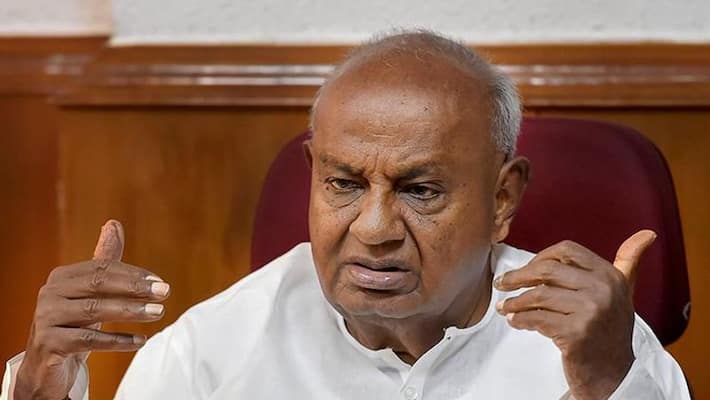 Magadi: JD(S) chief HD Devegowda asserted, on Tuesday November 5, that his party would not form an alliance with any party for local body elections or the by-polls.
HD Devegowda addressed media at Magadi party office and said, " We have fielded contestants on our turfs and where we are sure of winning. But we will contest by-polls independently in constituencies of disqualified MLAs."
HD Devegowda clarified that they would contest by-polls independently if Supreme Court's verdict goes against the rebel MLAs in the Karnataka MLAs disqualification case.
"The disqualified MLAs case is in the Supreme Court, in case the verdict is in favour of the disqualified MLAs, by-polls will not take place. Whereas if the verdict is against the disqualified MLAs, then JD(S) will independently contest by-polls. Municipal corporation elections are going on in Magadi, Kolar, Kanakapura and some parts of Mangaluru and we have fielded candidates in 268 constituencies out of 400. We aren't quite strong in Kanakapura. We are not contesting in all constituencies, said HDD.
Devegowda reiterated that DK Shivakumar is offering his complete support to HD Kumaraswamy to become the chief minister again.
Kanakapura Lok Sabha constituency has become DK Shivakumar's turf and he has a strong presence there. Our strength is that region is much weaker compared to DK Shivakumar's. But Shivakumar has offered his complete support to HD Kumaraswamy to become the chief minister yet again.
DK Shivakumar is in pain due to the ED case against him. Only to see to it that BJP doesn't win any seats in Kanakapura constituency during the by-polls, we are fielding 4 candidates in Kanakapura. But we will not be campaigning in any constituency of Kanakapura. We don't indulge in caste politics and we had given ministership to leaders from Madiwala, Muslim, Kuruba community", said the JD(S) chief.
Devegowda also took a dig at Siddaramaiah about his Ahinda comment and said that the ones who grew in their party are now talking about Ahinda community.
He questioned Siddaramaiah and said, "How many Ahinda leaders were given positions in their cabinet during 2013? I will answer his questions about Ahinda leaders when the time comes."
During my tenure as Prime Minister I had made sure that women get equal justice and positions as men in the Cabinet. Many women are now taking advantage of it and representing their lot in the Cabinet. Many politicians who learnt politics and grew as leaders in the JD(S) back then are now ministers in the BJP government. Some have even become chief ministers", said Devegowda.  
Last Updated Nov 8, 2019, 2:40 PM IST