Kerala: Stone pelting incident on trains reported for fourth day in a row; this time Vande Bharat
A stone was pelted at the Vande Bharat train on Wednesday (Aug 16) between Thalassery and Mahe stations. Earlier too, Vande Bharat trains were attacked in Kerala after the launch of the train by Prime Minister Narendra Modi.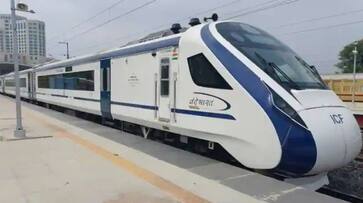 Kannur: For the fourth day in a row, stone-pelting on trains has reportedly occurred at several locations around north Kerala. On Wednesday, between Thalassery and Mahe stations, stone pelting broke a glass window on the Vande Bharat Express. The C8 coach's glass pane reportedly sustained damage. In the AC coach, the stone pierced through both levels of glass. The event, which happened at around 3:45 pm just after passing Thalassery station, did not, however, result in any injuries to the passengers. 
Also read: Stones pelted at three running trains in Kerala; three held
A passenger on the Kannur-Yesvantpur Express (16528) reported a stone-pelting incident on Tuesday. The event allegedly took place between the stations of Kozhikode and Kallai, according to the passenger's complaint.
A stone was thrown at the engine of the Duronto Express (12284) on Monday between Kannapuram and Pappinissery, according to the locopilot.
On August 13, between 7.00 pm and 7.30 pm, three different trains had three separate stone-pelting incidents in Nileshwar and Kannur.
Between Kannur and Valapatnam, the Netravati Express (16346) from Thiruvananthapuram to Lokmanya Tilak Terminus (LTT) in Mumbai was targeted. The event caused the AC coach A1's window to break. While going from Mangaluru to Chennai, the Chennai Super Fast (12686) encountered stone pelting between Kannur and Kannur South, which led to the breaking of an AC coach's glass. The Okha-Ernakulam Express (16337) was struck by a stone on the front of the general coach just before arriving in Nileswaram. Fortunately, there were no reported injuries.
Last Updated Aug 17, 2023, 3:17 PM IST