Stones pelted at three running trains in Kerala; three held
Miscreants pelted stones at three running trains in three separate incidents in Kerala on Sunday (Aug 13) evening. The Railway police have arrested three in connection with the incident.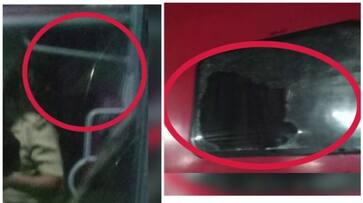 Kannur: Between 7:00 PM and 7:30 PM on Sunday, three different trains had three separate stone-pelting incidents in Nileshwar and Kannur.
1. Between Kannur and Valapatnam, the Netravati Express (16346) from Thiruvananthapuram to Lokmanya Tilak Terminus (LTT) in Mumbai was targeted. The event caused the AC coach A1's window to break. 
2. While going from Mangaluru to Chennai, the Chennai Super Fast (12686) encountered stone pelting between Kannur and Kannur South, which led to the breaking of an AC coach's glass.
3. The Okha-Ernakulam Express (16337) was struck by a stone on the front of the general coach just before arriving in Nileswaram. Fortunately, there were no reported injuries.
The railway police detained three persons after two trains in Kannur were attacked. It is suspected that they were under the influence of alcohol. The railway officials are further investigating the incident. 
Further details are awaited...
Last Updated Aug 14, 2023, 11:02 AM IST