Kerala plane crash: CM Vijayan, Guv to visit site, injured being treated at Kozhikode, Malappuram hospitals
The aircraft, with 190 people on board, was attempting to land in bad weather when it shot the runway around 7.40 pm and split into two after nose diving into a valley 35 feet below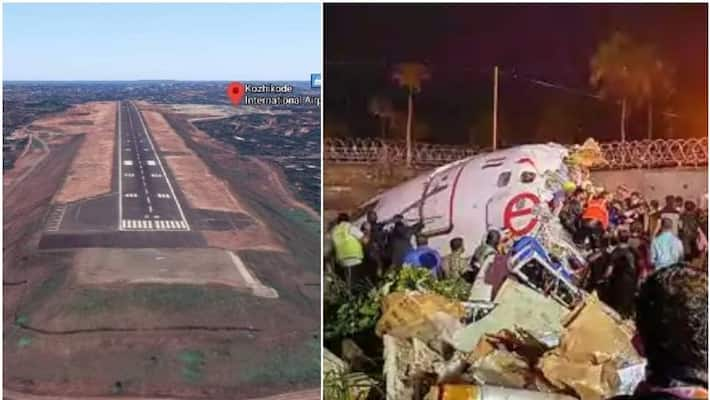 Kozhikode: As many as 19 people were killed in the Air India Express flight crash at Kerala's Kozhikode airport on Friday after the plane skidded off the runway and fell into a 35-feet valley before splitting, local media reported on Saturday.
Of the total, 17 persons who were killed in the crash have been identified, Malappuram District Collector K Gopalakrishnan told reporters.
The pilot-in-command Captain Deepak Sathe and his co-pilot Akhilesh Kumar were among those killed onboard the Dubai-Calicut Air India Express aircraft carrying 190 passengers as part of the Vande Bharat Mission.
Also read: Kerala plane crash: Sword of Honour recipient Captain DV Sathe was decorated IAF retiree
At least 100 people were left injured in the incident. Prime Minister Narendra Modi expressed pain over the tragedy and said he had spoken with Kerala Chief Minister Pinarayi Vijayan. "I have instructed the police and the fire force to take urgent action in the wake of the plane crash at the Kozhikode International airport (CCJ) in Karipur," Vijayan, who will visit the site today, said.
Kerala Governor Arif Mohammad Khan and chief minister Pinarayi Vijayan will visit Karipur today where the Air India Express flight crash-landed on August 7.
Meanwhile, speaking to news agency ANI, Civil Aviation minister Hardeep Singh Puri said, "Eighteen people, including two pilots, have lost their lives. It is unfortunate. At least 127 people are at hospitals, others have been released. Our task would have been much more difficult had the plane caught fire. I am going to the airport."
"Two special relief flights have been arranged from Delhi and Mumbai, respectively, for rendering humanitarian assistance to all the passengers and the family members. AAIB, DGCA and Flight Safety Departments have reached to investigate the incident," Air India Express said.
The Directorate General of Civil Aviation, Civil Aviation Ministry senior officials, Airports Authority of India and Air Navigation Service members will today hold a meeting in Delhi over the crash landing of the Air India Express flight at Kozhikode on Friday.
Last Updated Aug 8, 2020, 10:21 AM IST